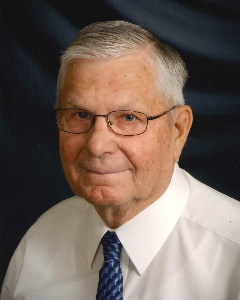 Service Information
Donald E. Huebert, age 97, of Hutchinson, Minnesota, formerly of Brownton, Minnesota, passed away on Thursday, June 2, 2022, at Hennepin Healthcare in Minneapolis, Minnesota.
Funeral Service will be held Monday, June 6, 2022, at 11:00 A.M. at Immanuel Lutheran Church in Brownton, with interment following in the church cemetery.
Visitation will be held Sunday, June 5, 2022 from 5:00-7:00 P.M. at Dobratz-Hantge Funeral Chapel in Hutchinson, and will continue one hour prior to the service at the church.
Visitation/Gathering
Dobratz-Hantge Chapel
899 Highway 15 South
Hutchinson, MN
Website:hantge.com
Service
Immanuel Lutheran Church
700 Division Street
Brownton, MN
Funeral Chapel
Dobratz-Hantge Funeral Chapel
899 Highway 15 South
Hutchinson, MN 55350
Phone:(320) 587-2128
Cemetery
Immanuel Lutheran Cemetery (Brownton)
5th St.
Brownton, MN
Obituary
Donald Elroy Huebert was born on January 16, 1925, in Springfield, Minnesota. He was the son of Carl and Cecelia (Hansen) Huebert. Donald was baptized as an infant and later confirmed in his faith as a youth. He received his education at Brown County School District Number 40, and was a graduate with the Springfield High School class of 1943.
On June 19, 1945, Donald was united in marriage to Bernice Gruendemann in Sleepy Eye, Minnesota. This marriage was blessed with four children, Connie, Carol, David, and Kay. Donald and Bernice resided in rural Brownton, Minnesota. In 2009, they moved to Hutchinson, Minnesota. They shared 68 years of marriage before the passing of Bernice on July 15, 2013.
Donald was a life-long farmer and sold farm and property insurance for 32 years. He retired in 1987. Donald was a member of Immanuel Lutheran Church in Brownton. He held several officer positions with the church and served on the cemetery board. Donald also held board positions with the Agriculture Stabilization and Conservation Service and Federal Housing Administration.
Donald enjoyed travelling, and watching boxing and other sports on television. He especially enjoyed spending time with his family, grandchildren and friends.
Donald passed away on Thursday, June 2, 2022, at Hennepin Healthcare in Minneapolis, Minnesota, at the age of 97 years.
Blessed be his memory.
Donald is survived by his:
Children, Carol Graupmann and her husband, Gerald of Brownton, MN,
David Huebert and his wife, Mary of Brownton, MN,
Kay Schwartz and her husband, Mel of Darwin, MN;
Grandchildren, Steven Knop, Shari Knop, Jeffrey Graupmann, Dawn Zeleke, Amy Brady, Jason Schwartz, Corey Schwartz;
Great-grandchildren, Jonathan Knop, Jake Knop, Elissa Graupmann, Shelby Graupmann, Ashley Rice, Elizabeth Schwartz, Abigail Schwartz, Estella Schwartz, Hannah Schwartz, Kody Schwartz, Emma Schwartz, Allison Schwartz, Zachary Zeleke, Jacob Brady, Kaitlyn Brady;
Great-great-grandson, Gunner Schwartz;
Many other relatives and friends.
Donald is preceded in death by his Parents, Carl and Cecelia Huebert; Wife, Bernice Huebert; Daughter, Connie Knop; Granddaughter, Jill Rice; Brother, Dallas Huebert; Sister, Eleonara Rupp.