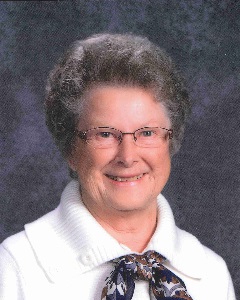 Service Information
Donna J. Zachow, age 84, wife of Allan, of Gaylord passed away Saturday, November 12, 2022, at Bayside Manor in Gaylord.
Funeral Service will be Sunday, November 20, 2022, 2:00 P.M. at Immanuel Lutheran Church in Gaylord with interment in the church cemetery.
Visitation will be from Noon-2:00 P.M. (2 hours prior), All at the church.
Memorials preferred to Alzheimer's Association (https://www.alz.org/) or Immanuel Lutheran School.
Visitation/Gathering
Immanuel Lutheran Church
315 5th Street
Gaylord, MN
Service
Immanuel Lutheran Church
315 5th Street
Gaylord, MN
Funeral Chapel
Egesdal Funeral Home
74 Main Avenue
Gaylord, MN 55334
Phone:(507) 237-2388
Cemetery
Immanuel Lutheran Cemetery (Gaylord)
Highway 22 North
Gaylord, MN
Obituary
Donna Jean (Demm) Zachow born on February 18, 1938 in Maple Plain, Minnesota, to David and Lovella (Wachholz) Demm. She was baptized on March 6, 1938, and was later confirmed in her faith as a youth on May 19, 1951, both at Trinity Lutheran Church in Waconia, Minnesota. Donna attended and graduated from Waconia High School in 1956 and  furthered her education at Concordia University in St Paul, Minnesota, graduating in 1959, and then Concordia University in Seward, Nebraska, graduating in 1963.
On July 26, 1963, Donna was united in marriage to Allan Walter Zachow at Trinity Lutheran Church in Waconia. After their marriage, the couple resided in Gaylord, where she raised four girls - Jodi, Beth, Heidi and Wendy, and helped raise her grandson, Dustin. She worked for 35 years as a teacher at Immanuel Lutheran Church and School in Gaylord and was instrumental in starting the 4-year-old preschool program.  She also taught part-time at First Lutheran School in Glencoe for several years. After retiring from teaching, she worked as the church secretary for two years and as the Manager/Superintendent at Immanuel Lutheran School for three years. Donna and Allan shared 59 years of marriage.
Donna was a member of Immanuel Lutheran Church in Gaylord and enjoyed singing in the church choir, was a Sunday School teacher and superintendent and a member of the Lutheran Women's Missionary League. She was a member of the Gaylord Congnizance Club, Sibley County Thrivent Board, Sibley County Faith in Action Board, and was a 4-H Leader when her children were young.
Donna enjoyed playing piano, reading, cooking/baking, gardening, coloring, doing arts and crafts, attending her grandchildren's events and going on walks with Allan. She cherished the time she spent with her family, especially her children, grandchildren and great-granddaughter.
Blessed be her memory.
Donna is survived by her:
Husband,         Allan Zachow;
Daughters,       Jodi (Steve) Richer,
                           Beth (Randy) Trebelhorn,
                           Heidi Zachow,
                           Wendy (Quan) Shelton;
Grandchildren, Dustin Zachow, Jonathan Richer (Jamie Kosek), Courtney Richer (Zach Mogard), Isabella Trebelhorn;
Great-granddaughter, Raegan Jaquin;
Step grandchildren, Tabetha Nourie, Samantha Styles (Tyler), Gavin Nourie, Jeremy Shelton, Jaden Shelton, Athena Shelton;
Step great-grandchildren, Ivy Nourie, Ellie Styles;
Sister-in-law, Shirley Demm (Lowell's wife);
Brothers-in-law and sisters-in law, Dennis and Nita Zachow, Ron and Sandy Zachow, Linda Zachow, JoAnn Zachow, Lois and Orv Grund, Walt Zachow, Gene Zachow and Annie Kregness, Sarah and Ron Kirsch and Arlene and Mark Kuphal;
Many nieces, nephews, other relatives and friends.
Donna was preceded in death by her Parents, David and Lovella Demm; her Father-in-law and Mother-in-law, Walter and Bernice Zachow; Sister, Shirley Demm; Brother, Lowell Demm; Brother-in-law, Roger Zachow; Sister-in-law, Lorie Zachow.