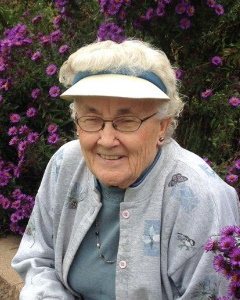 Service Information
Geraldine H. Hoernemann, age 95, of Glencoe, Minnesota, formerly of Lester Prairie, Minnesota, passed away on Friday, August 5, 2022, at GlenFields Living With Care in Glencoe.
 Private Family Graveside Service will be held at Fort Snelling National Cemetery in Minneapolis, Minnesota.
In lieu of flowers, memorials are preferred to Prairie Community Church, 700 1st Ave N, P.O. Box 85, Lester Prairie, Minnesota 55354.
Funeral Chapel
Johnson-McBride Funeral Chapel
1222 Hennepin Avenue
Glencoe, MN 55336
Phone:(320) 864-3737
Cemetery
Fort Snelling National Cemetery
7601 34th Avenue S
Minneapolis, MN
Obituary
Geraldine Harriet Hoernemann was born on February 22, 1927, in Lester Prairie, Minnesota.  She was the daughter of Arthur and Lorena (Jenneke) Kolbe. Geraldine was baptized as an infant and later confirmed in her faith as a youth, both in Lester Prairie. Her family made their home in Lester Prairie. Geraldine received her education at Lester Prairie Schools and graduated from Lester Prairie High School class of  1945.       
Geraldine was united in marriage to Elmer A. Hoernemann on June 8, 1945, at Evangelical and Reformed Church in Lester Prairie by the Rev. Bunge. The couple resided in Lester Prairie in a home that was designed by Elmer. Their marriage was blessed with two children, SueAnn and Steven. They shared 62 years of marriage together until Elmer's passing on April 7, 2010.
Geraldine was a member of the Prairie Community Church in Lester Prairie.
Geraldine enjoyed spending her time outdoors tending to her gardens and landscaping around their home. She was grateful to make many memories by doing a significant amount of travel throughout the years with her family. She greatly cherished the time she spent with her family.
Geraldine passed away on Friday, August 5, 2022, at GlenFields Living with Care in Glencoe, Minnesota, at the age of 95 years.
Blessed be her memory.
Geraldine is survived by her
Daughter, SueAnn Fynewever and her husband, Mark, of Cincinnati, OH;
Son, Steve Hoernemann and his wife, Margaret, of Avon, IN;
Grandchildren, Kristina Ritter and her husband, Mike, Kurtis Ericson and his wife, Jamie;
Great-grandchildren, Landon Howell, Theodore Ericson;
Step-great-grandchildren, Austin Ritter and Kenzie Ritter.
Geraldine was preceded in death by her Husband, Elmer Hoernemann; Parents, Arthur and Lorena Kolbe.