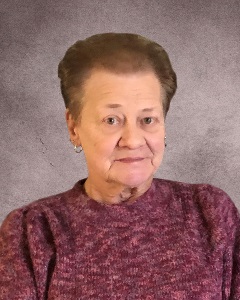 Service Information
Mary Jane (Janie Cuff) Bakken, age 80, of Fairfax, Minnesota, passed away after a brief battle with cancer on August 27, 2022, at Park View Care Center in Buffalo, Minnesota.
A Celebration of Life will be Friday, September 16, 2022, from 4:00-6:00 P.M. at Mayflower Golf Club (46321 Co Rd 39) in Fairfax, Minnesota, with interment in Fort Ridgely Cemetery, Ridgely Township, Nicollet County, Minnesota.
Visitation/Gathering
Funeral Chapel
Hauser-Hantge Funeral Chapel
601 South Park Street
Fairfax, MN 55332
Phone:(507) 426-7274
Cemetery
Ft. Ridgely Cemetery (Ridgely Twp)
Ridgely Township, rural Fairfax
Fairfax, MN
Obituary
Mary Jane Bakken was born on January 21, 1942, in Fairfax, Minnesota. She was the daughter of Floyd and Anna (Miller) Cuff. She was baptized as an infant and later confirmed in her faith at St. Andrew's Catholic Church in Fairfax. On November 20, 1965, Mary Jane was united in marriage to Joseph Bakken Jr. They had one child, Jim. Joe passed away on February 3, 1994.
Mary Jane lived and worked in Fairfax most of her life. She began her working days in high school and spent nearly her entire career in the telecommunications industry. Her father died young, so she was instrumental in helping and caring for her mother, Anna, until her death in 2003.
She enjoyed the things in life that mattered to her: spending time with close family, watching birds and deer, cruising the river bottom, taking care of stray animals (meow), cooking and cleaning, washing her car, gardening, working on puzzle books and watching TV, especially NASCAR and some oldies like Gunsmoke, Gunsmoke and Gunsmoke.
Mary Jane is survived by her:
son, Jim and his wife Becky;
siblings, Judy (Larry) Goodwin and Jim (Marchell) Cuff;
nieces and nephews, Ruth (Paul) Domeier, Duane (Maria) Cuff, Brad (Debra) Cuff, JoLynne (Arturo) Cordova, Randy (Tracy) Goodwin, Mandy Goodwin, Micha (Nick) Sassic, and Megan (AJ) Gardiner; and
several great nieces and nephews.   
Mary Jane is preceded in death by her husband, Joe Bakken; her parents, Floyd and Anna Cuff; parents-in-law, Joseph Sr. and Blondina Bakken; and siblings, Jerry and (Rosemary) Cuff.