The Brownton Funeral Chapel building was decommissioned in 2014 and is no longer used for funeral services.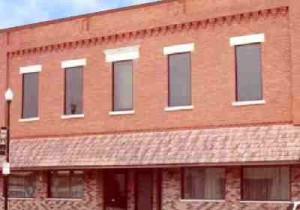 LOCATION INFORMATION
Main Street
Brownton, MN 55312
CONTACT INFORMATION
Phone:
1-800-937-1728 or (320) 587-2128
Caring For The Special Needs Of The Brownton, New Auburn and Stewart Communities
History
In 1973, Everett Hantge opened the Hantge Funeral Chapel in Brownton, Minnesota. Everett, a Brownton native, was raised on a farm in Penn Township and was a graduate of the Brownton High School Class of 1952. Everett worked for Podratz & Timm in Brownton, Minnesota, before attending Moorhead State University for one year. He graduated from the University of Minnesota Mortuary Science Department in 1962. Everett then completed his internship at Albin Chapel in Minneapolis, and continued to work for the Albin Chapel for eight years.
In 1970, he started working for Washburn-McReavy Funeral Chapel and continued to work there until 1973, when he moved back to McLeod County and settled in Hutchinson, Minnesota, where he leased the former Quast Funeral Home in Hutchinson, as well as opened a new chapel in Brownton. There were now two funeral homes serving the Brownton community. The Zachow Funeral Home served the Brownton community until it closed in 1983.
The funeral chapel in Brownton is located on Main Street below the Odd Fellow Hall. In 1984, the building and funeral chapel were remodeled and expanded, adding a large family room in the former Brownton Post Office.
Below are some newspaper ads and articles from the early days of the Brownton Funeral Chapel…