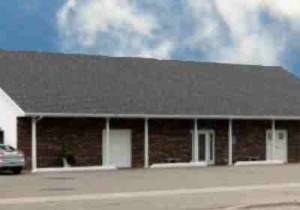 LOCATION INFORMATION
1222 Hennepin Avenue
Glencoe, MN 55336
CONTACT INFORMATION
Email:
mcbride@hantge.com
Caring For The Special Needs of the Glencoe, Plato, New Auburn and Biscay Communities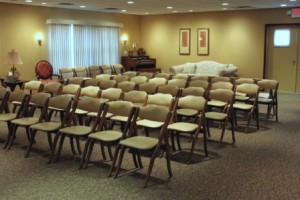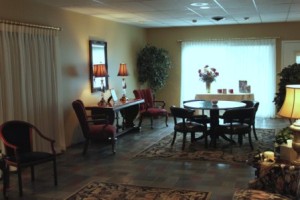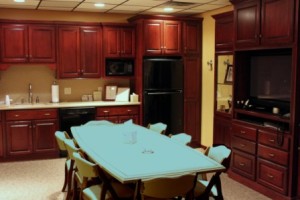 History
The role of funeral service in Glencoe, Minnesota, can be traced back to 1892 when Orlando Simons started O. Simons Star Furniture Store. His advertisements claimed, "37 years in Glencoe and 11 years in Business." His advertisement in the Glencoe Enterprise newspaper on October 6, 1898, stated "Furniture, Carpets, Undertaking and Embalming. Calls answered day and night." During this time, it was a common practice for those who were associated with furniture-making to also be involved in funeral service, due to the fact that furniture-makers could also make caskets. In 1896, O. Simons handled the Sheriff Rogers murder case which was a high-profile murder case in McLeod County during that time.
In 1914, L.F. Borkenhagen, formerly of Hutchinson, Minnesota, opened a new furniture store in the old J.A. Karstens store in Glencoe. Three years later, in 1917, L.F. Borkenhagen moved his business to the old City Hotel at 1225 Hennepin Avenue in Glencoe (which was located in the area where Pam's Hallmark store is currently located today). At this time, L.F. Borkenhagen renamed his business "Borkenhagen's Funeral Home." In addition, L.F. Borkenhagen operated his own Ambulance Service and advertised as "The House of Service." At the end of the year 1917, the Glencoe community had two funeral homes – Borkenhagen Funeral Home and O. Simons Star Furniture Store/Funeral Home.
After being in the furniture and funeral business for 32 years, Orlando Simons sold his furniture and funeral business in Glencoe to Hugo Brockmeyer in 1924. Four years later, in 1928, Hugo Brockmeyer purchased the Henry Lenzen & Son Furniture and Funeral Service in Norwood, Minnesota. At this time, Mr. and Mrs. O.N. Lykin were introduced to the funeral business by Hugo Brockmeyer and his wife (Mrs. Lykin and Mrs. Brockmeyer were sisters). The funeral homes in Norwood, Minnesota, and Glencoe, Minnesota, were both owned by the Brockmeyer and Lykin families. In 1939, the Brockmeyer Funeral Home in Glencoe underwent a disastrous fire which forced the Brockmeyer and Lykin families to build a new facility in Glencoe in 1940. Brockmeyer and Lykin announced that their new "Funeral Chapel" and all other modern facilities could care for every need in connection with a complete funeral service. They held an open house on March 1, 1940.
Not only did Brockmeyer and Lykin open a new funeral home in Glencoe in 1940, but L. F. Borkenhagen also did some remodeling of his funeral business. In 1940, Borkenhagen remodeled the Beltz family home in Glencoe into a funeral home that housed a "spacious chapel, mourner's room, and preparation room." This funeral home was located at 1227 Hennepin Ave – across from where the current funeral home is located today.
At one point during the 1940s, the Glencoe community was home to four funeral homes. In addition to Borkenhagen funeral home and the Brockmeyer and Lykin funeral home, P. Seifert and J. Seifert opened a funeral home in Glencoe for about 10-12 years. Furthermore, Houston H. Franks rearranged and remodeled his home at 1330 Greeley Ave in Glencoe into a funeral home. Mr. Franks also had an office and upholstering shop at a different location.
In 1948, Mr. Bob Johnson entered the funeral business in Glencoe. He worked for L.F. Borkenhagen before going on his own and purchasing Fitch Funeral Chapel. Fitch Funeral Chapel was the former Brockmeyer Funeral Home. In 1949, Brockmeyer's sold their funeral business to Alva and Ramona Fitch, whom were daughter and son-in-law of Mr. and Mrs. Brockmeyer.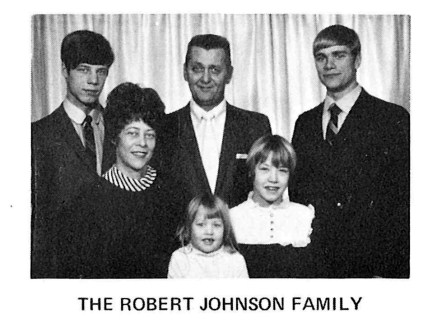 In 1960, Bob Johnson bought the Fitch Funeral Chapel on 1014 Greeley Avenue and started Johnson Funeral and Ambulance Service. A short while later, Ron Carlson entered funeral service in Glencoe by purchasing Borkenhagen's Funeral Home and continued running the business from the 1227 Hennepin Avenue location, until he sold the business to Bob Johnson in 1965. At that time, Bob Johnson combined his two funeral homes into one funeral business at the 1227 Hennepin Avenue location.
In 1970, Bob Johnson bought the current 1222 Hennepin Avenue location which was the previous Haukos Brothers Harvester Implement Dealership. Haukos Brothers moved to its present location on Highway 22 just outside of Glencoe. In 1971, Mrs. Bob Johnson made the old dealership into a marketplace area for crafts and antiques and called it the "Neighbor's House." They also had a little restaurant at that location called "The Back Porch." In 1975, Bob Johnson remodeled the 1222 Hennepin Avenue location into the funeral home it is today.
Bruce McBride, a native of Windom, Minnesota, graduated with the University of Minnesota Mortuary Science Class of 1974. He worked for the Hamlin-Hansen Funeral Home in Moose Lake, Minnesota until 1977, when he and his wife, Suzanne purchased the Johnson Funeral Chapel in Glencoe, Minnesota. The funeral home was then renamed to the Johnson-McBride Funeral Home. In 1993, Bruce and Suzanne expanded their business and purchased the Paul Funeral Homes in Norwood Young America and Lester Prairie.
In December of 2009, Bruce and Suzanne McBride of Glencoe, and Robert and Richard Hantge of Hutchinson, merged their funeral operations. The Hantges, as new owners, retained the McBrides, who have remained active in the operation of the business. The Hantges also retained all McBride's staff, and the name of the chapel remained the same.
Staff