What is Cremation?
Although cremation dates back to ancient times, the number of people choosing cremation has increased significantly in the past few years. Cremation is the process during which human remains are reduced to their original elements by application of intense heat. Cremation is a process which is performed in a respectful and dignified manner and has as many service and memorial options as traditional burial.
Why cremation?
Cremation is chosen for a variety of reasons. Some people base their cremation choice on environmental, philosophical, or religious reasons. For others, the decision is primarily based on practicality and the belief that the process is simpler and more suitable. Choosing cremation neither eliminates nor does it require a funeral service. Traditional or memorial services are often planned before or after the cremation process. The service may be elaborate or simple, traditional or nontraditional. Services may be personalized specifically to reflect the life of the deceased, and thus have special meaning. Whichever service you may choose, we are here to help you plan a personalized cremation service for your loved one.
Why choose us?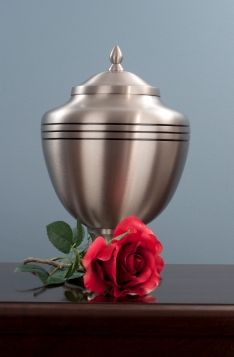 When cremation is chosen as a method of final disposition, the most important question every family should ask when choosing a funeral home is "where is the crematory located and who operates it?" We are unique for the fact that we own and operate our own crematory. The crematory, which is known as Heritage Memorial Crematory, is located at the Dobratz-Hantge Chapel in Hutchinson. By owning and operating our own crematory, we ensure that cremation policies and procedures are carried out with utmost detail, care, dignity, and professionalism. All of our funeral directors have been trained to operate the crematory. On many occasions, the same funeral director that goes to the place of death and meets the family for final funeral arrangements is the same person completing the cremation process and handing the cremated remains back to the family. In the past, when cremation has had negative headlines in the media, it has been due to the fact that a third-party has been involved and the funeral home had no involvement in the cremation process. Families need to be aware of where and who is handling the cremation for their family. Families trust us to manage all the details when caring for their loved ones and are glad to hear that we will not only oversee the entire cremation process, but we will handle it as well. Families can take comfort in knowing that their loved one never leaves our care.
Cremation Services:
Traditional Funeral Service with Cremation Following: This type of service is just like a complete funeral service, one where the body is present, except cremation will follow the service instead of a casketed burial. This type of service can be accommodated by the use of a cremation casket (a casket that is designed to be cremated) or the use of a rental casket. Following the viewing, service, or ceremony, the cremation process will take place and the cremated remains will be placed in an urn. The cremated remains can then be buried or returned to the family for safekeeping. Viewing of the deceased is a very important step in acknowledging that the death has occurred. This type of funeral service allows for this acknowledgement and also for the wishes of cremation.
Memorial Service: A Memorial Service is one where the body is not present. In this type of service, the cremation process occurs before the service, and an urn may or may not be present at the service. Following the service, the urn may be buried or returned to the family. A memorial service provides an opportunity for family and friends to join together in a formal ceremony and acknowledge that a life has been lived, and to offer to the community a way in which to celebrate that life. We encourage families to create very personalized services. By offering services and memorialization features that are personal and special, a unique life can be remembered and honored in an individualized way that is comforting to family and friends.
Personalization and Memorialization for Cremation: Cremation allows families many choices for memorializing a loved one. Cremated remains can be buried, put into a niche, kept at home, divided among family members, or even made into jewelry. We offer custom, unique urns and keepsakes, perfect for displaying inside your home. Options of personalization and memorialization at a memorial service may include a balloon release or dove release outside the location of the memorial service or at the cemetery.