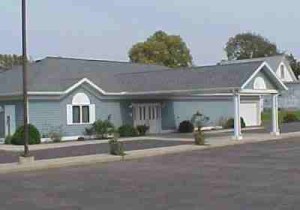 LOCATION INFORMATION
74 Main Avenue
P.O. Box 184
Gaylord, MN 55334
CONTACT INFORMATION
Email:
hantgechapels@hantge.com
Caring For The Special Needs of the Gaylord, New Auburn and Bernadotte Communities
History
In 1899, Gustav Kimmet and his brother-in-law, John Guetschoff of Gaylord, opened their undertaker parlor at the present site of the Prairie House parking lot located on 5th Street and Sibley Avenue. From 1916 to 2000, there were four different locations  in Gaylord, for the funeral business; the last being the new building at 74 Main Avenue near the  downtown area.
In 1922, due to the death of Gustav Kimmet, Clarence Quist acquired his interest; and renamed the firm Guetschoff & Quist. In 1929, William H. Matthes bought Quist's share. Quist relocated into the large Busch building, and named the business C. O. Quist Furniture. There he also provided funeral service and ambulance services. In 1937, he bought the Mueller Bros. building at 219 Fourth Street and remodeled it into a furniture store and funeral parlor.
In 1945, Quist's son-in-law, Gerald W. Johnson joined the firm. When he became a full partner in 1955, the store was renamed Quist & Johnson. In 1958, Quist sold his interest to Johnson.
Elden (Al) Egesdal, a native of Elmore and a graduate of the University of Minnesota Department of Mortuary Science in 1962, became an employee in 1972. From 1959 to 1962, Al worked for Washburn-McReavy Funeral Chapel in Minneapolis and lived in an apartment above the chapel. He took night calls and worked part time while he was a student at the University. Al served his apprenticeship in Minneapolis, and Anchorage, Alaska, for 2 years. Al purchased the Quist & Johnson business in 1976.
In 1982, Al Egesdal purchased the Hauser Funeral Home in Fairfax; in 1991, he purchased the Klasse Funeral Home in Westbrook and in 1992, he purchased the Dalin Funeral Home in Winthrop.
In 1996, Al sold the Hauser Funeral Home and Dalin Funeral Home to brothers, Robert and Richard Hantge of Hutchinson. And, in 1997, Egesdal sold the Klasse Funeral Home.
In 2004, upon the illness of his wife, Laura Jean, Al sold the Egesdal funeral home in Gaylord to Robert and Richard Hantge, who are the present owners.
For over 50 years, Al has served his profession in a caring and compassionate way and continues to assist the Hantge's in serving the needs of the Gaylord, New Auburn and Bernadotte area.
Staff