Hantge Funeral Chapels offers several keepsakes and products to help you remember your loved one. Here are a few of the products below.
Our Memorial Package
Each Person is unique and deserves to have a memorial service and funeral that reflects their unique personality. Let our administrative staff help you create customs folders to honor your loved one's life. We customize candles and register books to match as well as offer custom acknowledgements.
Thumbies Fingerprint Keepsakes
Thumbies are crafted from the actual fingerprints of people we hold dear. There are many styles to choose from, including rings and key chains. Our fingerprints are a significant part of our identity, unique to each person. Wonderful memorials that are truly incomparable. Please call the chapel for more information on ordering these keepsakes.
Memorial Booklets
An exclusive gift from our funeral chapels… Often the visitation/gathering and memorial/funeral service seems to be a blur in the days after the service. In order to give our families time to reflect on the beautiful flowers, gifts, and moments of the service and graveside service, we take pictures and assemble them in a Memorial Booklet which we provide at no charge to the immediate family. They are also a great memorial for family members who were not able to attend the service.
Flag Cases
Memorial flag display case is an excellent commemorative piece for honoring veterans.  Preserve and protect your special, commemorative flag for years to come.  Please call the funeral chapel for more information and pricing.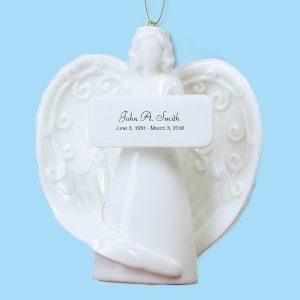 Angel Ornaments
These graceful, white porcelain angel ornaments are at once a classic and modern design and will serve as a remembrance at Christmas or all year round. These ornaments will be cherished keepsakes for your family. Please call the chapel for more information about these beautiful angel ornaments.
Teddy Bears
If your family member had a favorite jacket or any piece of clothing, we can arrange to have that piece of clothing made into a Teddy Bear keepsake that is truly special.  Please call the chapel about this unique and meaningful keepsake.