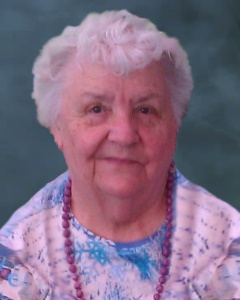 Service Information
Adeline Darsow, age 92, of Robbinsdale, Minnesota, and formerly of Glencoe and Hutchinson, Minnesota, passed away January 4, 2022, peacefully at her home in Robbinsdale.
Private Family Memorial Service will be held on Saturday, May 21, 2022, at the Dobratz-Hantge Chapel in Hutchinson with interment in the First Lutheran Cemetery in Glencoe.
Service
Dobratz-Hantge Chapel
899 Highway 15 South
Hutchinson, MN
Website:hantge.com
Funeral Chapel
Johnson-McBride Funeral Chapel
1222 Hennepin Avenue
Glencoe, MN 55336
Phone:(320) 864-3737
Cemetery
First Lutheran Cemetery (Glencoe)
Glencoe, MN
Obituary
Adeline May Darsow was born on December 5, 1929, in Glencoe, Minnesota.  She was the daughter of Harry and Alta (Todd) Ahlbrecht.  She attended school in Glencoe and graduated with the Glencoe High School Class of 1947.
On July 12, 1952, Adeline was united in marriage to Melvin Darsow.
Adeline was employed as a Quality Control Inspector and Supervisor.
Adeline was a member and actively involved at Peace Lutheran Church in Robbinsdale, Minnesota.  
Adeline enjoyed reading, working on crossword puzzles, sewing, cross-stitching, gardening, and putting together puzzles. She cherished the time she spent with her children, grandchildren, and great-grandchildren.
Adeline passed away on January 4, 2022, peacefully at her home in Robbinsdale at the age of 92 years old. Blessed be her memory.
Adeline is survived by her:
Sons, Corey Darsow and his wife, Cindy of White Bear Lake, Minnesota,
           Barry Darsow and his wife, Theresa of Maple Grove, Minnesota;
Grandchildren, Wade Darsow, Allison Boldt and her husband, Jeff, Rebecca DeBilzan and her husband, Jake, Britta Graham and her husband, Mitch, and Dakota Darsow and his wife, Keely;
Great Grandchildren, Alexander Boldt, Zachary Boldt, Sydney Boldt, Anika DeBilzan, Lyla DeBilzan, Wesley DeBilzan, Maveric Darsow, Scarlett Darsow, and Lynkin Darsow;
Twin Sister, Etheline Clasen of Hutchinson, Minnesota;
Many Nieces, Nephews, other relatives and friends.
Adeline is preceded in death by her Parents, Harry and Alta Ahlbrecht; Daughter, Debra Darsow; Sisters, Marian Schuette, Laura Michaletz.