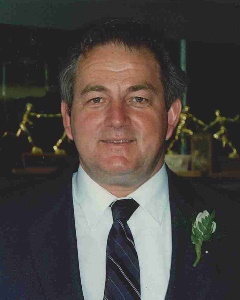 Service Information
Adrian James Reineke, age 85, of Glencoe, Minnesota, passed away peacefully on Saturday, November 4, 2023, at Good Samaritan Society in Howard Lake, Minnesota.
Celebration of Life will be held Saturday, December 9, 2023, from 11:00 A.M. - 2:00 P.M., at Unhinged Pizza in Glencoe.
Funeral Chapel
Johnson-McBride Funeral Chapel
1222 Hennepin Avenue
Glencoe, MN 55336
Phone:(320) 864-3737
Obituary
Adrian "Ayde" James Reineke was born on June 3, 1938, in Arthur township, Traverse County, Minnesota; the son of John and Frederica (Zellner) Reineke; baptized and confirmed at St Anthony Catholic Church in Browns Valley.  He joined the Knights of Columbus in 1959 and was a 3rd Degree Knight. 
Adrian farmed with his Dad until 1965 moving to St Paul to work as a welder at Bayport Company;  in 1968 he started working at Production Engineering Corporation in Minneapolis; he attended Dunwoody College at night for metallurgy and blueprint reading and became a government-certified heliarc welder. He worked for the next 40 years and retired from PEC at age 70. In addition in 1988, he was busy evenings and weekends with an 80-acre farm near Glencoe where the Reinekes have lived for 35 years.  Right up until November 3rd he and Maureen were farming and agreed they would plant soybeans in 2024. 
Adrian met the love of his life, Maureen Iler in 1969 in Willmar MN where Maureen worked as a bookkeeper; they were introduced by Ayde's nieces and later married at St Mary's Catholic Church in Willmar;  sharing the next 53 years together and were blessed with a son, Jon.
Ayde (as he liked to be called) was an avid photographer. Many trips across the US, Canada, and even England kept Ayde and  Maureen busy taking pictures over the years.  They took night classes in photography, darkroom work, speed reading, and business …..continuing education was important to Ayde and he was always looking to learn more.
Ayde passed away on Saturday, November 4, 2023, at the Good Samaritan Society in Howard Lake at the age of 85 years.
He is survived by his wife, Maureen; son, Jon;  sister, Marian Firchau; sisters-in-law, Dorothy Reineke, Pauline Iler, Gwen(Curtis) Hasbargen, Beth(Alan Williams) Pikop, and Ruth(Kenneth) Johnson; Brother-in-law, David Iler; 29 nieces and nephews; many great-nieces and great-nephews, family and friends.
Ayde was preceded in death by his parents, John & Frederica Reineke;  Maureen's parents, Daniel and Irene Iler; Brother, Lawrence Reineke; Niece, Linda Walters; Brothers-in-law, Roy Iler, and Jerome Pikop.