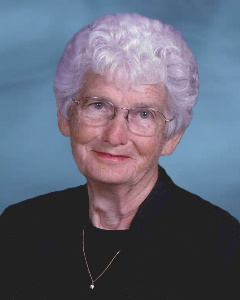 Service Information
On October 8, 2022, in Glencoe, Minnesota, Agnes Oie, age 93, was called to her eternal home to be with her Lord and Savior Jesus Christ. Prior to her passing, she had been surrounded by the love of her family.
Celebration of Life will be held Monday, November 14, 2022, 2:00 P.M., at Grace Bible Church in Silver Lake, Minnesota, with interment in the church cemetery.
Gathering of Family and Friends will be held Monday, November 14, 2022, from 1:00 – 2:00 P.M., one hour prior to the service at the church.
Funeral Chapel
Johnson-McBride Funeral Chapel
1222 Hennepin Avenue
Glencoe, MN 55336
Phone:(320) 864-3737
Obituary
Agnes was born in Watson, Minnesota on December 9, 1928. She was the daughter of Norwegian immigrants, Olaf and Anna Henstein. The sharing of her heritage was a source of joy among friends and family. Her experiences developed a combination of steadfastness and hospitality that permeated the wisdom and love she demonstrated to those she encountered.
Agnes met her husband of 72 years, Arnold Oie at the café where she worked in Montevideo. Her endearing personality was evident when she was hired by the telephone company and while she worked in a variety of other industries. Following several moves, she and her lifelong sweetheart turned their attention to raising their 5 children; eventually owning and operating Granite Furniture Store in Granite Falls, MN for 40 years.
Spending time with family was her favorite pastime; whether at their lake cabin, enjoying sunsets around a bonfire, at home playing cards and board games, making lefse, experiencing new adventures through traveling, listening to birds while watching other wildlife on her deck, or gathering wood to burn.
Rarely seen with idle hands, she was always busy creating gifts through knitting, sewing, or producing something of usefulness and beauty.
In later years, Aggie was laser focused on being warm and keeping those around her warm. She would most often be found near the flicker of her cozy fireplace, savoring a sweet treat while making hundreds of treasured quilts. When she wasn't counting numbers for her crafts, she was counting her blessings and reminding those around her to do the same.
Her ready smile, welcoming hugs, hearty laughter, and esteemed perspective are irreplaceable. Anchored in faith, her strength, courage, and feisty positive outlook endure in the memories of those whose lives she has impacted.
She is survived by her brother, John Henstein (Kathy); 4 children, Michael (Teresa), Rebecca Anderson (Peter), Matthew (Michelle), and Nathan (Heather); 6 grandchildren, Lucas Twedt (Nycole), Nathan Anderson (Amanda), Zachary Twedt (Melissa), Jacob Oie (Korine), Haley Oie, Tanner Anderson;  4 great-grandchildren, Everett Twedt, Taylor Anderson, Violet Twedt, and Bennett Anderson, along with many nieces and nephews.
She was preceded in death by her parents; her husband Arnie; her siblings, Haakon Henstein, Harold Henstein, Jorgine Nelson, Paul Henstein, Helen Coffey; daughter, Julie Oie Twedt; and her granddaughters, Rachel Twedt and Kelsey Oie.