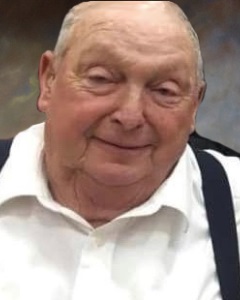 Service Information
Al Collins, age 83, husband of JoAnn, of Winthrop passed away Tuesday, May 3, 2022, at Glencoe Regional Health in Glencoe.
Funeral Service will be Wednesday, May 11, 2022, 11:00 A.M. at First Evangelical Lutheran Church in Winthrop with interment in the Winthrop Cemetery.
Visitation will be Tuesday, May 10, 2022, from 4:00 P.M.-7:00 P.M. at the Dalin-Hantge Funeral Chapel in Winthrop. Visitation will continue one hour prior to the service at the church on Wednesday.
Visitation/Gathering
Dalin-Hantge Chapel
209 W 2nd Street
Winthrop, MN
Website:hantge.com
Service
First Evangelical Lutheran Church
213 N Hennepin
Winthrop, MN
Funeral Chapel
Dalin-Hantge Funeral Chapel
209 West Second Street
Winthrop, MN 55396
Phone:(507) 647-5326
Cemetery
The Winthrop Cemetery
Winthrop, Sibley County
Winthrop, MN
Obituary
Al Collins was born May 28, 1938, in Beebe, Arkansas.  He was the son of Charley and Pearl (Barnett) Collins. He was baptized at age 12 in Beebe, Arkansas.
On April 30, 1960, Al was united in marriage to JoAnn Lindstrand at First Evangelical Lutheran Church in Winthrop, Minnesota.  After they were married they lived in Illinois for a few years until moving back to Winthrop, Minnesota.  They were blessed with five children.  They were able to celebrate 62 years of marriage. 
Al enjoyed many things in life from traveling to see family, farming, milking cows, and mowing the yard.  Al enjoyed mostly being with his family and enjoying special events with them.
Al is survived by his:
Wife,               JoAnn Collins of Winthrop, MN;
Children,         Charlie (Dona) Collins of Glencoe, MN,Debra (Charlie) Schiller of Brownton, MN,
Barbara (Ben) Jacobson of Winthrop, MN,
Lori Stephens (Jeff Gibbins) of Edgerton, MO, and
Angela (Jeremy) Lederle of Jordan, MN;
many Grandchildren;
many Great-grandchildren;
Brothers, Sisters, Nieces, Nephews, other Relatives and Friends.
Al was preceded in death by his Parents, Charley and Pearl Collins; Father-in-law and Mother-in-law, August and Blandina Lindstand; Brothers, Ray Collins, Loyd and Freda Collins, Robert and Nancy Collins, Frank and Bessie Collins; Sisters, Mabel and Edward Rittig, Myrtle and Grady Micheal, Fay and Roy Rittig, Kathern Collins.