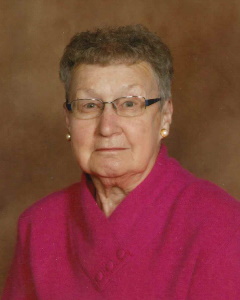 Service Information
Aldis V. Elling, age 95, of Cosmos, Minnesota, passed away Friday, August 19, 2022, at Methodist Hospital in St. Louis Park, Minnesota.
Memorial Service will be held Wednesday, August 24, 2022, at 11:00 A.M at Peace Lutheran Church in Cosmos, Minnesota, with interment in the church cemetery.
Gathering of Family and Friends will be held from 9:00-11:00 A.M, two hours prior to the service at the church.
Funeral Chapel
Hughes-Hantge Funeral Chapel
311 Main Street S.
Hector, MN 55342
Phone:(320) 848-6297
Obituary
Aldis Vivian Elling was born at the doctor's home in Franklin, Renville County, Minnesota, on March 28, 1927, to Albert and Zelda (Jones) Bye. She grew up on a farm southeast of Hector, Minnesota. Aldis helped on the farm with chores, fieldwork and housework, she also helped neighbors with their chores and housework.
On April 18, 1952, Aldis was united in marriage to Maynard Elling at Peace Lutheran Church in Cosmos, Minnesota. Aldis and Maynard farmed the home farm east of Cosmos with her brother-in-law, Harry Elling, until Maynard's passing on July 21, 1972, fifty years ago this past July. To this union was born one son, Mark, who was seven years old when his dad passed away. They rented out most of the land until Mark started farming more land.
Aldis loved driving tractor and helping on the farm. She was an avid gardener growing potatoes, sweet corn, tomatoes, and various flowers. Aldis enjoyed going for car rides along the country side and listening to music, especially her favorite polka band, The Larry Olsen Band, and her favorite country singer, Vince Gill. She was a long-time member of Peace Lutheran Church in Cosmos and was active with the church women.
When she needed more care, Aldis became a resident of Harmony River in Hutchinson, Minnesota, on July 11, 2022. Aldis passed away on Friday, August 19, 2022, at Methodist Hospital in St. Louis Park, Minnesota, at the age of 95 years.
Blessed be her memory.
Aldis is survived by her son, Mark Elling and many other nieces, nephews, family, and friends.
Aldis is preceded in death by her Parents, Albert and Zelda Bye; Husband, Maynard Elling; Brother, Elmer Bye; Sisters, Beatrice Bye, Helen Wills and her husband, Wilbert; 9 Brothers-in-law; and 8 Sisters-in-law.