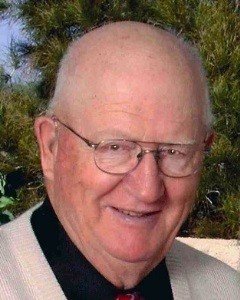 Service Information
Alex Lamb, age 82, of Buffalo Lake, formerly of Hector, passed away Saturday, November 21, 2015, at the Buffalo Lake Healthcare Center.
Memorial service will be Friday, November 27, 2015, at 11:00 A.M. at the United Methodist Church in Hector.
Interment will be held in the United Methodist Church of Hope Cemetery, Osceola Township, rural Bird Island.
Gathering of Family and Friends will be Friday morning for one hour prior to the service, from 10:00 – 11:00 A.M. at the United Methodist Church in Hector.
Service
United Methodist Church
300 2nd Street West
Hector, MN
Funeral Chapel
Hughes-Hantge Funeral Chapel
311 Main Street S.
Hector, MN 55342
Phone:(320) 848-6297
Cemetery
United Methodist Church of Hope Cemetery (Osceola Twp)
Approx 43998 870th Ave
Osceola Township, MN
Renville
Obituary
Alex James Lamb was born January 28, 1933, in Motley, Minnesota, the son of Harold and Rosa (Harvego) Lamb.  He was baptized and confirmed the summer of 1944 at the Methodist Church in Motley, MN. Alex grew up in Motley where he received his education.  He graduated with the Class of 1951 from the Motley High School.
On September 11, 1955, Alex was united in marriage to Elmina Knutson in Granite Falls, Minnesota at the First Baptist Church.  They made their home in the Hector area.  Six children blessed their union, Michael, LaNita, Brian, Patricia, Susan, and Curtis.
Alex was a farmer.  He enjoyed the time he spent in the truck and tractor.  Over his years of farming he raised beef cattle and hogs along with growing corn, soybeans, sugar beets, sweet corn and peas. Alex served the boards of Southern Minnesota Beet Sugar Coop, the Farmers Coop Exchange of Hector, in addition to the Hector Public School.
Alex was a member of the Osceola Church of Hope, rural Hector and later joined the United Methodist Church in Hector.  He enjoyed the outdoors, especially when he was fishing, walking, and flower gardening. Fond memories were made taking his family on many camping trips and vacations over the years.  He loved to spend time at the cabin on Green Lake.   Alex and Elmina enjoyed traveling to such places as Hawaii, Texas, California, Washington, and North Carolina. They wintered in Arizona for 19 years.  This is where he found time to paint, golf, and hike in the hills.  Fishing trips up north with good friends were a priority also.   Alex could spend time without end listening to his family sing and make music.  He greatly appreciated their talents.
In March 2015, Alex became a resident at Westview Estates Assisted Living and in September moved to Buffalo Lake Healthcare Center.  His regular dinner table partners knew him well for his story telling and always having a joke to share.  His favorite seemed to be Ole and Lena jokes.
Alex is survived by his wife, Elmina Lamb of Buffalo Lake; children: Michael Lamb and his wife Shar of Hutchinson, LaNita Harris and her husband Rick of North Carolina, Brian Lamb and his wife Karyn of Hector, Patricia Snowden of California, Susan Holmgren and her husband Brad of Washington, and Curtis Lamb of Hector; nine grandchildren; two great-grandchildren; brothers: Loren Lamb of Tennessee, and Wesley Lamb and his wife Jackie of California; sisters-in-law: Maryan Froland and her husband Ronald of Granite Falls, and Betty Baker and her husband Gerald of Granite Falls; nieces, nephews, other relatives and friends.
Alex was preceded in death by his parents, and sister Lenore Denelsbeck and her husband Merton Denelsbeck.