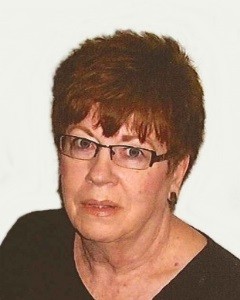 Service Information
Alice J. Wiggert, age 70, of Hector, passed away Saturday, May 24, 2014, at Methodist Hospital in St. Louis Park.
Funeral Service will be Wednesday, May 28, 2014 at 2 PM at Palmyra Covenant Church in Palmyra Township, rural Hector.
Interment in Zion Evangelical Cemetery in Buffalo Lake.
Visitation will be Tuesday, May 27, 2014 from 4:00 – 7:00 PM at the Hughes-Hantge Funeral Chapel in Hector. Visitation will continue for one hour prior to the service at church.
Visitation/Gathering
Hughes-Hantge Chapel
311 Main Street South
Hector, MN
Website:hughes@hantge.com
Service
Palmyra Covenant Church
44031 County Rd 4
Hector, MN
Funeral Chapel
Hughes-Hantge Funeral Chapel
311 Main Street S.
Hector, MN 55342
Phone:(320) 848-6297
Cemetery
Zion Evangelical Cemetery (Preston Lake Twp)
Renville County, Preston Lake Township
Buffalo Lake, MN
Renville
Obituary
Alice Joyce Wiggert was born April 27, 1944, in Herman, Minnesota, the daughter of John and Emilia (Oltmann) Hulburt.  She was baptized as an infant at the Herman Methodist Church, and confirmed in her faith there as a youth.   Alice grew up in Herman, and graduated in 1962 from the Herman High School. 
On May 29, 1965, Alice was united in marriage to Loyd Wiggert at the Covenant Church in Mound, Minnesota.  They made their home in Buffalo Lake.  A few years later, they moved to Brownton where they lived for 27 years.  They relocated, and lived in Glencoe for 13 years. Upon retirement, they moved to Hector.  During many of those years, Alice worked at Telex in Glencoe, retiring in 2006.
Alice was a dedicated volunteer.  She was involved with 4H, and after retirement, worked with the Historical Society in Hutchinson.   Alice and Loyd volunteered their time for many years at the Hector Public Library.  Alice loved being a member of the Palmyra Covenant Church, and was involved with many activities there.  She helped with Sunday School and Bible Study, and served as a deacon. 
Alice expressed many talents.  She loved to sew, bake, garden, paint, and decorate her home.  She enjoyed going camping and hiking.  Reading was her favorite pastime, and she loved to watch HGTV and the Andy Griffith Show.  Alice's family, especially her grandchildren, were her love and joy.
Early Saturday morning, May 24, 2014, Alice passed away at the Methodist Hospital in St. Louis Park, having reached the age of 70 years.  Blessed be her memory.
Alice is survived by her Husband, Loyd Wiggert, of Hector; Sons: Judd Wiggert and his Wife, Missy, of Buffalo Lake, and Luke Wiggert and his Wife, Danelle, of Hutchinson;  Grandchildren:  Brandon Wiggert, Ashley Wiggert, Marissa Wiggert, Travis Sandry, Parker Wiggert, Cassidy Wiggert, Colton Wiggert, and Ellie Wiggert; Siblings: Deloris Lind, David Hulburt (Mary), Eileen Ebent (Allyn), Craig Hulburt (Jan), and Calvin Hulburt (Dory); Father-in-law and Mother-in-law, Marvin and Hazel Wiggert; Brother-in-law Ivan Wiggert (Maggie); Nieces, Nephews, other relatives, and friends.
Alice was preceded in death by her Parents, John and Emilia Hulburt, infant Son William Wiggert, infant Granddaugher Gracie Wiggert, Sister Loretta Rininger, as well as other relatives and friends.