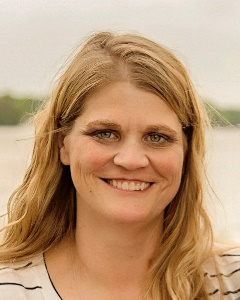 Service Information
Amy L. Paulson, age 42, of Hutchinson, Minnesota, passed away on Wednesday, May 24, 2023, at Hutchinson Health in Hutchinson.
Funeral Service will be held on Wednesday, May 31, 2023, at 11:00 A.M. at Peace Lutheran Church in Hutchinson, with interment in Oakland Cemetery in Hutchinson.
Visitation will be held on Tuesday, May 30, 2023, from 4:00 to 7:00 P.M. at Dobratz-Hantge Funeral Chapel in Hutchinson, and will continue one hour prior to the service at the church.
Memorials preferred.
Funeral Chapel
Dobratz-Hantge Funeral Chapel
899 Highway 15 South
Hutchinson, MN 55350
Phone:(320) 587-2128
Obituary
Amy was born on September 2, 1980, in Hutchinson, Minnesota. She was the daughter of Glenn and Barbara (Goebel) Field. Amy was baptized as an infant on September 28, 1980, and later confirmed in her faith as a youth on May 21, 1995, both at Our Savior's Lutheran Church in Hutchinson. She was a graduate of the Hutchinson High School Class of 1999. Amy furthered her education at both Ridgewater College in Hutchinson and St. Catherine University in St. Paul.
On September 19, 2014, Amy was united in marriage to Rory Paulson, Jr. at the family cabin in Dassel. Rory Jr. and Amy met while Rory was on a two-week leave from active military duty in Iraq. When Rory returned overseas, the pair talked every day they could until Rory returned home at the end of his tour. They were inseparable after that. Amy blossomed as Rory's wife. She was patient, loving, encouraging, and loved to instigate good times and memories with her husband. They relied on each other, and held each other up in so many ways. Amy and Rory were truly two peas in a pod until a third pea twinkled their eye.
Amy was destined to be a Mom. Her love of children was widely known throughout the community. But because of her medical history, she was unable to carry her own child. God stepped in to pair the Paulsons and the Dostals together forever when Whitney and her family offered one of the greatest gifts one can give: surrogacy. Although they suffered miscarriage and loss, Amy and Rory were finally blessed with a son, Wesley Glenn, on June 12, 2019. Wesley became the centerpiece and joy of their every day. A perfect combination of Amy's spunk and Rory's wisdom, Wesley is a loving, smart, funny, goofy, active, sweet little boy who will always be the reflection of his Mama's best qualities.
Throughout her life, Amy had many occupations: phlebotomist, preschool helper, secretary, nanny, pastry chef, the list goes on. She loved life and all the experiences it had to offer. But by far, the titles that gave her the most pride and joy were Mama Bear and Wife.
Amy was a phenomenal baker and cook. She loved to throw parties, and travel all over Minnesota with her Mom on "Field Trips." No distance was too far to drive to enjoy a fun festival, activity or event. Amy was an active member of Peace Lutheran Church in Hutchinson, and an avid advocate for charities like Wounded Warriors, the Lupus and Kidney Foundations, Samaritan's Purse/Heal Our Patriots and more. She was also an active member of Today's Women of Hutchinson. Amy was famous for using Facebook as a tool for good, lifting up fundraisers worth supporting, people who needed prayers, and reminders for us all to live in the moment. She loved to sing, and shared that gift with her son every night before he went to sleep, lulling him off with songs like "Borning Cry" and "You Are My Sunshine." Amy loved spending time with her friends and family, and was an expert at making people laugh and shake their heads at her bravado. She often had a mischievous sparkle in her eye, and she was everyone's favorite "partner in crime."
She left us too soon, and we are heartbroken. But the legacies Amy leaves behind will be a blessing to all who knew her: Amy taught us the importance of family and friends first. She continuously reminded us that God will lead you through ANY trials you may face, if you only lean on your faith and embrace an unshakable optimism. Despite the many health challenges, hardships and loss Amy suffered over the years, she held fast to the Lord, and the Lord picked her up every time. She was loud and proud about her faith, always giving credit and praise to God for all the goodness to be found. She modeled the characteristic that anybody can do good for others at any time, and that no gesture of love and support is too small.
Her final tattoo speaks words to her loved ones from Heaven: "It is well with my soul." In a recent Facebook post, Amy reflected on life by stating, "This message focuses on how life can be unpredictable and challenging, but faith and trust in God can help us to overcome hardship and tragedy." She was providing balm for our hearts before we even knew we needed it. Amy was like that; intuitive to the needs of others, big-hearted, generous and loving. We are all better for knowing her.
Amy passed away on Wednesday, May 24, 2023, at Hutchinson Health in Hutchinson, at the age of 42 years.
Blessed be her memory.
Amy is survived by her:
Husband, Rory Paulson, Jr. of Hutchinson, MN;
Son, Wesley Paulson of Hutchinson, MN;
Mother, Barbara Field of Hutchinson, MN;
Brother, Matthew Field and his wife, Amy of Buffalo, MN;
Niece, Ariana Field of Buffalo, MN;
Uncle, Richard "Dick" Goebel and his wife, Paula of Darwin, MN;
Uncle, Brian Field of Hutchinson, MN;
Cousin, Wade Christenson of Litchfield, MN;
Countless other loved ones and friends.
Amy is preceded in death by her Father, Glenn Field; Grandparents, Virgil and Delores Goebel; Grandparents, Robert and Audrey Field; and two heavenly babies she conceived who never drew breath on this Earth: Faith and Henry.