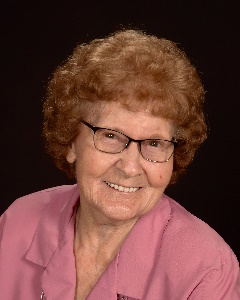 Service Information
Anna A. Burge, age 103, of Hutchinson, Minnesota, passed away on Sunday, June 4, 2023, at the Ecumen Pines in Hutchinson.
Mass of Christian Burial will be held on Saturday, June 10, 2023, at 11:00 A.M. at St. Boniface Catholic Church in Stewart, Minnesota, with interment in the church cemetery.
Visitation will be held on Friday, June 9, 2023, from 4:00-7:00 P.M., at Dobratz-Hantge Funeral Chapel in Hutchinson, Minnesota, with Rosary Service at 4:00 P.M. and Prayer Service at 6:30 P.M. Visitation will also be one hour prior to Mass at the church.
Visitation/Gathering
Dobratz-Hantge Chapel
899 Highway 15 South
Hutchinson, MN
Website:hantge.com
Service
St. Boniface Catholic Church
551 Main Street
Stewart, MN
Funeral Chapel
Dobratz-Hantge Funeral Chapel
899 Highway 15 South
Hutchinson, MN 55350
Phone:(320) 587-2128
Cemetery
St. Boniface Catholic Cemetery (Stewart)
McLeod County, Round Grove Twp, Section 5
Stewart, MN
Obituary
Anna Angelia (Krebsbach) Burge was born October 20, 1919, to John and Emily (Forcier) Krebsbach at their family farm northeast of Stewart, Minnesota. She was the 11th of 12 children, and the last surviving child of John and Emily.
Anna was baptized and confirmed at St. Boniface Catholic Church in Stewart where she became a dedicated, lifelong member of the congregation. She engaged in many organizations at the church including serving a term as president of the Christian Mothers. She was also a member of the church choir.
Anna attended first grade at the 'round schoolhouse,' which at the time stood along highway 212 between Stewart and Brownton. She then attended St. Boniface Parochial in Stewart through the eighth grade. At the time, it was common for children that age to go directly to work to help support their families. St. Boniface is also where Anna met her future husband, Art.
Anna held various jobs growing up, primarily housework and babysitting for her older brothers and sisters. She also worked at a hotel in Buffalo Lake, and baked bread once a week at a neighboring farm.
When Anna and Art started dating in the late 1930's, Art would often pick up Anna in his father's 1931 Model A Ford and they would go in groups to house parties, barn dances, or the movies to watch films featuring the likes of Robert Taylor, Roy Rogers and Dale Evans, Barbara Stanwyck, and a young Shirley Temple.
Anna was united in marriage to Arthur C. Burge Jr. "Art" on June 4, 1940, at St. Boniface Catholic Church in Stewart, Minnesota. They enjoyed 66 years of marriage before Art's passing in 2007. Their marriage was blessed with six children, 12 grandchildren, 11 great-grandchildren, and two great-great-grandchildren. Anna's passing occurred on the 83rd anniversary of her marriage to Art.
After their marriage, Anna and Art lived for eight years in the 'old house' at the existing farm site where they settled into what would become a lengthy career in farming. Anna was a hard-working, kind, caring, sweet and loving wife and mother, working tirelessly raising her family, doing housework, cooking, gardening, and helping with every aspect of work on the farm.
Even though Anna was quite busy raising their growing family and working on the farm, she and Art often found time to get away to visit family and friends or go fishing at a nearby lake or at their favorite resort near Alexandria. Anna told stories for many years about the 8- and 10-pound northerns she caught from shore at Lake Kandiyohi.
Anna and Art always enjoyed traveling, whether it was visiting family in California or Texas or RVing across the country. One of Anna and Art's most exciting vacations was in 1979 when they toured Europe with the Concord Singers from New Ulm. As they neared retirement, Anna and Art enjoyed being 'Winter Texans' for many years, visiting their Texas kids and making new friends with fellow RVers from Minnesota and Wisconsin.
Anna loved to bowl and took home many trophies over the years in local leagues and in Texas during the winter months. And no one can forget those spur of the moment trips to Jackpot Junction in Morton where Anna's daughters would love to watch her play slots and win.
Most of all, Anna loved family gatherings. Whether it was a birthday, holiday, reunion, or Friday night bowling and playing cards with family in Bird Island, Anna loved having family and friends around her. Anna and Art's milestone wedding anniversary celebrations were some of her best times, especially their 50th wedding anniversary celebration when several of their RV friends drove up from southern Minnesota and Wisconsin, parking their RVs at the family farm for a big weekend celebration.
There was no bigger Vikings fan than Anna, and she was overwhelmed with excitement when she attended her first game at the age of 97 and was honored by the team. Anna's 100th birthday celebration three years ago was a wonderful gathering of family and friends which Anna thoroughly enjoyed.
Anna's loving nature, kindness, and sweet disposition will be missed, and her strength and ability to offer guidance and compassion during challenging times is inspiring and comforting to all whose lives she touched. We will all miss those 'goodbye' waves when going down the driveway.
Anna is survived by her children: Gerald Burge of Bakersfield, California, Sharon Murry of Navasota, Texas, Linda Brey (Gary) of New Ulm, Minnesota, Colleen Wagner (Larry) of Hutchinson, Minnesota, and Alan Burge (Christine) of Houston, Texas.
Grandma Anna will be missed by her surviving grandchildren: Brian Burge (Kelly), Michael Burge, Terri (Roepke) Jannusch, Steven Roepke (Leora), Darren Brey (Melissa), Brent Burge (Jerry), Ryan Burge (Bryn), Aaron Wagner (Amy), Curt Wagner (Alicia), Kristin (Wagner) Geers (Jeff), and Kelli Burge.
Anna will also be missed by her great-grandchildren: Andrea Roepke, Taylor Roepke (Emmalee), Emily Eckstrand, Nathaniel Burge (Elisa), Bailey Burge, Miles Burge, Lucy Geers, Holton Wagner, Barron Wagner, Bennett Wagner, Elayna Wagner, and two great-great-grandchildren, Hadley Roepke, and Georgia Roepke.
She is also survived by many nieces, nephews, other relatives, and friends.
Anna was preceded in death by her husband, Arthur C. Burge Jr.; son, Lyle Burge; granddaughter, Renee (Brey) Eckstrand; daughter in-law Shannon (Trick) Burge, son-in-law LE Murry; grandson in-law Dennis Jannusch, parents, John C. Krebsbach and Emily (Forcier) Krebsbach; six brothers, five sisters, and their spouses.