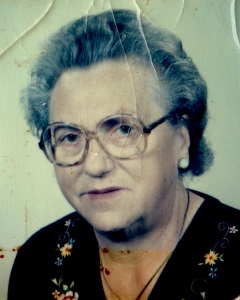 Service Information
Anna Hilda Hacker, age 97, of Fairfax passed away Friday, June 17, 2022, at River Valley Health and Rehabilitation in Redwood Falls, Minnesota.
Mass of Christian Burial will be Thursday, June 23, 2022, 10:30 A.M. at St. Andrew's Catholic Church in Fairfax with interment in the church cemetery.
Visitation will be Wednesday, June 22, 2022, from 4:00 P.M.-7:00 P.M. and will continue one hour prior to the service on Thursday, ALL at St. Andrew's Catholic Church in Fairfax.
Visitation/Gathering
St. Andrew's Catholic Church
15 SE 1st Street
Fairfax, MN
Service
St. Andrew's Catholic Church
15 SE 1st Street
Fairfax, MN
Funeral Chapel
Hauser-Hantge Funeral Chapel
601 South Park Street
Fairfax, MN 55332
Phone:(507) 426-7274
Cemetery
St. Andrews Catholic Cemetery (Cairo Twp)
Cairo Township, rural Fairfax, Renville County, MN
Fairfax, MN
Obituary
Anna Hilda Hacker was born on December 7, 1924, in Aken, Germany. She was the daughter of Friederich and Anna (Speer) Balazaitis. Anna was baptized and confirmed in Marie Church in Aken, Germany.
When she was 17 years old she volunteered in the Arbeitsdienst (Labor Service) where she helped local farmers work in the field and in the house taking care of the family. While living in East Germany under Communist rule, it was difficult for her family to get clothes, shoes or even food. However, her family would buy schnapps with the food stamps so they could trade the schnapps for other goods in West Germany. She and two friends would sneak back and forth across the border through the dark woods at night with the schnapps in her backpack and trade the schnapps for goods and food – especially bread and fish. She made this trip five times within the year. The fifth time the Russian soldiers found her making this trip and put her in a basement for the night. The next morning, she had to go to the commandant who took away her identification card and train ticket home since they thought she was a spy. To get back to her home, she and her friends hopped on a coal train where they had to hide in the restroom since they did not have a ticket. When they left the train they avoided the police by getting off the back end of the train and running through a field to their homes. It became too dangerous to make the trip so frequently, so in October of 1949, she escaped from East Germany to West Germany for a better future.
She worked for four years milking cows and four years working as a house helper and at the same time she worked in a cigar factory in Minden and Bielefeld, West Germany. She was able to visit Aken again in 1954 to visit her parents when the communists would still let people travel between the two countries. The following year her father passed away but she was unable to attend his funeral due to the communist's strict policies forbidding travel between East and West Germany.
In 1958 her cousin, whom Hilda was very close to, suggested that she come to the United States to work. Hilda flew to Minneapolis on April 1, 1958, and lived in Fairfax, Minnesota, with her cousin where she met Roman Hacker.
Anna was united in marriage to Roman Hacker on July 9, 1958, at St. Mary's Catholic Church in New Ulm. This union was blessed with the birth of two sons, Edwin and Thomas. The couple lived and farmed in Camp Township, Renville County. They celebrated 42 years of marriage before Roman passed away on August 13, 2000.
In 2001, Hilda received her United States citizenship. After 50 years in the United States, Hilda traveled back to her homeland in August 2004, where she was reacquainted with her friends and relatives.
Anna was a member of St. Andrew's Catholic Church in Fairfax and Christian Mother's.
Hilda loved to read, garden and ride her bicycle. She cherished the time she spent with her sons.
When she needed assistance with her daily care, Anna became a resident of River Valley Health and Rehabilitation in Redwood Falls and passed away there on Friday, June 17, 2022, at the age 97 years. Blessed be her memory.
Anna is survived by her:
Sons,    Edwin Hacker of Fairfax, MN, and
            Thomas Hacker of Willmar, MN;
Other relatives and friends.
Anna was preceded in death by her Parents, Friederich and Anna Speer Balazaitis; Husband, Roman Hacker; Brother, Fritz Balazaitis and his wife, Erna.