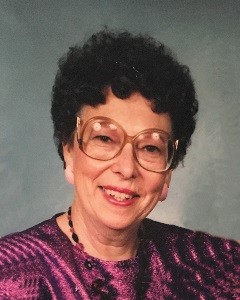 Service Information
Arlene "Dotsie" Kottke, age 90, of Glencoe, Minnesota, passed away Saturday, December 31, 2016, at Good Samaritan Care Center in Arlington, Minnesota.
Memorial Services will be held on Saturday, June 24, 2017, 11:00 A.M. at First Congregational United Church of Christ in Glencoe, Minnesota, with interment following at the Sumter Cemetery in Sumter Township, Minnesota.
Gathering of Family & Friends will be held on Saturday, June 24, 2017, from 10:00-11:00 A.M., one hour prior the service at the church.
Visitation/Gathering
First Congregational United Church of Christ
1400 Elliot Avenue N
Glencoe, MN
Service
First Congregational United Church of Christ
1400 Elliot Avenue N
Glencoe, MN
Funeral Chapel
Johnson-McBride Funeral Chapel
1222 Hennepin Avenue
Glencoe, MN 55336
Phone:(320) 864-3737
Cemetery
Sumter Cemetery
Sumter Township, rural Brownton, McLeod County
Sumter, MN
Obituary
A celebration of Dotsie's life as accomplished Wife, Mother, Grandmother, Great-Grandmother, Beautician, and Life coach will be held Saturday, June 24, 2017, at 11:00 A.M. at the First Congregational Church of Glencoe, with interment at Sumter Cemetery in Sumter Township.
Mom passed away on December 31, 2016, at age 90.
Our beloved Mother was born to John and Helen (Duehn) Albrecht on June 5, 1926.  She was baptized August 22, 1926, at the Sumter Methodist Church by Rev. Gustoph J. Sohm.  On June 19, 1938, she was confirmed with Rev. George Fenske officiating.  She was united in marriage to Louis D. Kottke on March 3, 1947, in Webster, South Dakota, with Clergyman Leon W. Kern officiating.
Dotsie attended District #60 elementary and graduated from Glencoe High School in June 1944.  She went on to complete Rogers and Benner school of Cosmetology in 1946.  While being a farm wife and mother she managed "Kottke's Kut and Kurl" in her home in the country and in town.  Even tho she was a lifelong resident of McLeod County, she traveled extensively.
Left to cherish her memory are, Linda (Allen Melzer), Susan (Michael) Austad, Angel Debra, Daniel Fredric and special friend, Cyndi.  Grandmother of Joshua (Katherine) Austed, Sarah Biros and special friend, Scott, and family, Andy (Kari) Austad, Tricia Schemmelpfennig and special friend, Marcel, Mary (Zac) Alexander, Chad Kottke and special friend, Maria, Elizabeth (James) Van Dorn, Sean Kottke and special friend, Breanna, Ethan (Cassidy) Kottke.  Great-Grandmother of Luis and Peter Biros, Alex, Nick and Carter Austad, Elsie and Ella Kottke, Lily and Avenna Kottke, Madalynn Menken, Bailey, Elijah and Becket Alexander, Sevina and James Van Dorn, George and Francis Austad and Lavender Kottke.
Mom is survived by her brother Kenneth Albrecht of Mankato and sister, Carol and brother-in-law, Leland of Eden Prairie as well as many nieces and nephews and good friends.
"My Beautiful Grama, Dotsie, passed away at the very end of 2016-last night.  She wore sparkles, lipstick and beautiful jewelry with confidence.  She was a natural in her home, beauty shop and kitchen, raised 5 kids and loved Grampa passionately-best of all she was always ready for a celebration and everyone enjoyed being in her presence.  2017 won't be the same without her, but we will celebrate with the same positive energy she shared with so many." By Granddaughter Mary.
Good Bye Dotsie,
"You can take comfort in knowing this great lady lived life to the fullest.  Always giving of herself and with a smile.  I will miss her and remember her.  She was an example and an inspiration for all of us."  Love and Prayers, Cousin Randy.
The family wishes to extend their gratitude to Mon's caregivers at Glencoe Regional GHSC, Prairie Senior Cottages, Hutchinson and The Good Samaritan in Arlington.