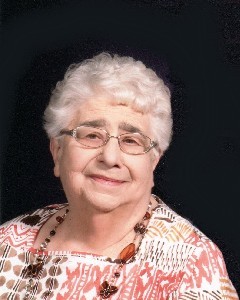 Service Information
Arlene Gerardy, age 85, of Fairfax passed away Wednesday, April 22, 2015, at the Fairfax Community Home in Fairfax.
Mass of Christian Burial will be Monday, April 27th, 10:30 A.M. at St. Andrew's Catholic Church in Fairfax with interment in the church cemetery.
Visitation will be Sunday, April 26th, from 4:00 P.M.-8:00 P.M. at St. Andrew's Catholic Church in Fairfax. There will be a Prayer Service at 7:30 P.M. on Sunday. Visitation will continue one hour prior to the service at the church on Monday.
Visitation/Gathering
St. Andrew's Catholic Church
15 SE 1st Street
Fairfax, MN
Service
St. Andrew's Catholic Church
15 SE 1st Street
Fairfax, MN
Funeral Chapel
Hauser-Hantge Funeral Chapel
601 South Park Street
Fairfax, MN 55332
Phone:(507) 426-7274
Cemetery
St. Andrews Catholic Cemetery (Cairo Twp)
Cairo Township, rural Fairfax, Renville County, MN
Fairfax, MN
Obituary
Arlene Mae (Traurig) Gerardy was born on July 15, 1929, in New Ulm, Minnesota. She was the daughter of Joseph and Laura (Berdan) Traurig. Arlene was baptized as an infant and was later confirmed in her faith. She received her education at District #53 and St. George Parochial School.
On June 7, 1949, Arlene was united in marriage to Sylvester Gerardy at St. George Catholic Church in St. George, Minnesota. After their marriage, the couple farmed in Cairo Township, Renville County. She had an active farm life including growing her large garden, taking care of the farm yard, helping with the dairy operation, raising chickens and preparing and carrying many lunches to the fields. In 1986, they moved into Fairfax where she was employed at the Fairfax Community Home in housekeeping. She was a loving mother and wife. This union was blessed with three children. Arlene and Sylvester shared 65 years of marriage.
Arlene was a member of St. Andrew's Catholic Church in Fairfax, and the VFW Auxiliary #8459.
She enjoyed playing cards, bingo, gardening, cooking and baking.  She loved old time music, dancing and visiting with friends.  Arlene loved spending time with her family especially her grandchildren and great-grandchildren.
In 2013, the couple moved into the Assisted Living in Fairfax and on April 7, 2015, Arlene became a resident of the Fairfax Community Home and passed away there on Wednesday, April 22, 2015, at the age of 85 years. Blessed be her memory.
Arlene is survived by her:
Husband,         Sylvester "Bud" Gerardy of Fairfax, MN;
Children,       Deanna Germain and her husband, David of Blaine, MN,
                        Patricia Becker and her husband, William of Lake Park, MN, and
                        Nancy Sonnek and her husband, Patrick of Gibbon, MN;
Grandchildren, Laura Germain-Laaraj and her husband, Abdul, Amy Becker, Anna Becker;
Great-Grandchildren, Yasmine Laaraj and Salma Laaraj;
Sister, Marion Petterson of Lake Crystal, MN;
Nieces, Nephews, other relatives and friends.
Arlene was preceded in death by her Parents, Joseph and Laura Traurig; Brother, James Traurig; Brother-In-Law, LaVern Petterson.