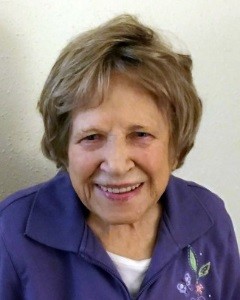 Service Information
Bernice A. Benson, age 91, of Cosmos, passed away Sunday, December 4, 2016, at her home.
As requested by Bernice, no funeral service will be held.
A Private family burial service will be held in the Hector City Cemetery.
Funeral Chapel
Hughes-Hantge Funeral Chapel
311 Main Street S.
Hector, MN 55342
Phone:(320) 848-6297
Cemetery
Hector City Cemetery
Renville County, Hector Township, Section 32
Hector, MN
Obituary
Bernice Augusta Ahlbrecht was born on December 3, 1925, to Ben and Martha (Kaddatz) Ahlbrecht in East Lake Lillian Township. She was baptized and confirmed at Trinity Lutheran Church in Brookfield Township. She graduated from Hector High School in May of 1944.
Bernice was united in marriage to Mervin Benson on November 1, 1947, at St. John's Lutheran Church in Atwater. To this union were born four children: Sue, Tom, Kay, and Michael, who passed away in infancy. She was preceded in death by her Husband Mervin, Son Michael, her Parents, Brothers, Dwain Ahlbrecht and Harlan Ahlbrecht, along with six brothers-in-law, two sisters-in-law, other relatives, and friends.  Bernice was laid to rest near all of them at the Hector City Cemetery at a private family ceremony.
Bernice is survived by her three children:
Sue Dallmann and Husband Paul of Willmar,
Tom Benson and Wife Diane of Cosmos, and
Kay Larson and Husband Larry of Lake Lillian;
Grandchildren: Clint Dallmann, Alan Dallmann, Melissa Larson Houston, Brandon Larson, Tara Boelter, and Jim Boelter (Wife Lori);
Great-grandchildren: Kayla, Grace and Ethan Dallmann, Lucas and Cooper Houston;
Sisters-in-law: Lillian Ahlbrecht, Dorothy Benson, LouElla Benson, and Maxene Benson;
and many other relatives, and friends.