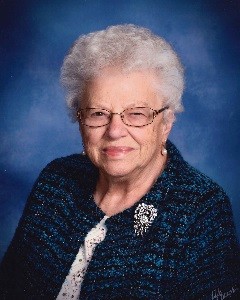 Service Information
Bertha Neubarth, age 93, of Winthrop passed away Friday, December 8, 2017, at the Good Samaritan Society in Winthrop.
Funeral Service will be Tuesday, December 12, 2017, 11:00 A.M. at Zion Evangelical Lutheran Church in Winthrop with interment in the Winthrop Cemetery.
Visitation will be Monday, December 11, 2017, from 4:00 P.M.-7:00 P.M. at Zion Evangelical Lutheran Church in Winthrop. Visitation will continue one hour prior to the service on Tuesday at the church.  
Visitation/Gathering
Zion Evangelical Lutheran Church
608 Highland Drive W
Winthrop, MN
Service
Zion Evangelical Lutheran Church
608 Highland Drive W
Winthrop, MN
Funeral Chapel
Dalin-Hantge Funeral Chapel
209 West Second Street
Winthrop, MN 55396
Phone:(507) 647-5326
Cemetery
The Winthrop Cemetery
Winthrop, Sibley County
Winthrop, MN
Obituary
Bertha Lydia (Trebelhorn) Neubarth was born to Philip and Anna (Rohrig) Trebelhorn on a lovely summer day, August 6, 1924, in Noonan, North Dakota. Bertha was baptized into the Lutheran faith in Noonan. The Trebelhorn family moved to Winthrop in 1927, and became members of Zion Evangelical Lutheran Church. Bertha was confirmed in her faith June 12, 1938, at Zion. She graduated from Winthrop High School.
On a snowy February evening, Bertha was united in marriage to Gerald Neubarth, the 23rd day, 1952, at Zion Evangelical Lutheran Church in Winthrop. After marriage, the couple resided in Winthrop. Their marriage was blessed with three children. Bertha and Gerald shared 53 years of marriage before Gerald passed away on March 22, 2005.
Bertha worked at Winthrop School as a cook aide for about 11 years, she worked many enjoyable years at Hands, Inc. in Winthrop, until about the age of 78. She was a member of the Winthrop Fireman's Auxiliary.
She always put the needs of her family before her own-that is what a daughter, mother, grandmother, great-grandmother does! Her children, grandchildren, and great-grandchildren were her greatest treasures. She loved to be with them for vacations, traveling to Florida, Mexico, Arizona and many Minnesota destinations. Spending time with family at lake homes, for holidays and just being together to talk and laugh were important to her. Bertha's passions were many, her spirituality was deep.
The Lord chose to take Bertha home on December 8, 2017, at the age of 93 years, 4 months, and 2 days.
She loved life with humor, grace, and compassion. Left to cherish her memory is:
Daughters,       Patricia Baumann and her husband, Joel of Mankato, MN,
                        Judy Madsen and her husband, Kevin of Winthrop, MN, and
Son,                 Bruce Neubarth and his wife, Juli of Hutchinson, MN;
9 Grandchildren, Amanda (Dave) Schultz, Sarah (Derek) Harstad, Lora (Matt) Budach, Andrew (Emily) Neubarth, Emma Baumann, Brent (Amanda) Neubarth, Kelly (Kalen) Fischer, Slade Baumann, and Jason Madsen; 
9 Great-Grandchildren, Adelyn, Maria, Harrison Harstad; Sophia and Robert Budach; Gavin and Paige Neubarth; Deacon Neubarth, and Sylvanna Fischer;
Sister-In-Law, Clara Trebelhorn;
Nieces, Nephews, other relatives and friends.
Bertha was preceded in death by her Parents, Philip and Anna Trebelhorn; Husband, Gerald Neubarth; Brothers, Alex Trebelhorn, John Trebelhorn, Ed Trebelhorn, Henry Trebelhorn, Otto Trebelhorn, Ben Trebelhorn, Robert Trebelhorn, and Lennard Trebelhorn; Sisters, Mary Bern  and Freida Klockmann, many other family and friends.