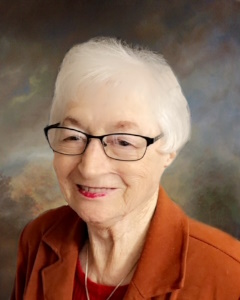 Service Information
Betty Buboltz, age 92, of Hutchinson, Minnesota, passed away on Sunday, June 18, 2023, at Park Nicollet Methodist Hospital in St. Louis Park, Minnesota.
Private Family Burial will be held.
Funeral Chapel
Hughes-Hantge Funeral Chapel
311 Main Street S.
Hector, MN 55342
Phone:(320) 848-6297
Obituary
Betty Ann (Havemeier) Buboltz was born on January 7, 1931, in New Ulm Minnesota. She was baptized February 1, 1931, at Emmanuel Lutheran Church in Courtland, MN. She attended parochial school in Courtland.
In May of 1949 she married the love of her life Harris Buboltz. Harris was a wonderful and loving husband, dad, grandpa, and great grandpa. Harris and Betty were blessed with two children, Jerry and Patti. They lived on the farm south of Hector where they resided until 1979. They then built a new home in Hector and lived there, and various other homes, until they moved to Hutchinson in 2020.
Betty had a strong work ethic. She loved going to work every day in the numerous factories she was employed at throughout her career. After she retired, she decided to continue working as a housekeeper for her local community. She was happiest when she could be busy working! Betty and Harris also loved going to their cabin on Diamond Lake, or up north fishing. They spent many days fishing, boating and entertaining. She was also a great gardener. Harris and Betty had beautiful flowers that were the envy of the neighborhood! Betty also loved having holiday gatherings for the family. She was an excellent cook and baker. Her grandkids could not wait to spend holidays at their homes enjoying her delicious meals and treats. Betty loved dancing as well, which is where she met Harris. It kept them active plus she loved socializing with others that enjoyed dancing. Betty looked forward to summers where they spent time camping at Hobo Park on Lake Minnewaska after they sold their lake cabin. There were many fun filled days with the grandkids fishing, swimming, and camping. It was a highlight of the summer for her and Harris as well as the grandkids.
Betty passed away June 18, 2023, at Park Nicollet Methodist Hospital in Saint Louis Park, MN. She was 92 years old.
Betty is survived by her son Jerry Buboltz and his wife Joyce, her daughter Patti Heidemann and her husband Mark. Grandchildren Brian(Abby) Heidemann, Kristin (Jeff) Walker, Jennifer (Tim) O'Fallon, Phillip (Sylvia) Buboltz, Deron ( Neyu) Buboltz Betty's great grandchildren Carter, Emily, and Leah O'Fallon, Ava & Jaxon Buboltz, Alea and Naia Buboltz Charlie and Fletcher Heidemann , and Cole and Presley Walker, Bettys sisters Vercille (Dale) Class, Burrell (Eddie) Osberg, Burnett (Frank) Pearse, sisters in law Bonnie Havemeier & Margaret Havemeier. Preceding her in death was her husband Harris, they were married 65 years! Bettys parents Paul and Mary (Hengy) Havemeier Bettys brothers Paul Havemeier, Jr. and his wife Margaret, Clarence Havemeier and his wife Lorna, Raymond Havemeier and his wife Melda, Jerome Havemeier, Dennis Havemeier, Betty's sister Dorothy Shellum and her husband Lester.