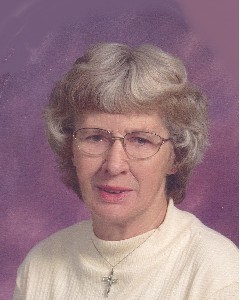 Service Information
Betty Doering age 85, of Gaylord, passed away Sunday, August 30th, 2015, at Oak Terrace Health Care Center in Gaylord.
Funeral Service will be Saturday, September 5th, 11:00 A.M. at Immanuel Lutheran Church in Gaylord, with interment in the church cemetery.
Visitation will be Friday, September 4th, from 4:00 P.M.-8:00 P.M. at Immanuel Lutheran Church in Gaylord. Visitation will continue one hour prior to the service at the church on Saturday.
Memorials preferred to Immanuel Lutheran School.
Visitation/Gathering
Immanuel Lutheran Church
315 5th Street
Gaylord, MN
Service
Immanuel Lutheran Church
315 5th Street
Gaylord, MN
Funeral Chapel
Egesdal Funeral Home
74 Main Avenue
Gaylord, MN 55334
Phone:(507) 237-2388
Cemetery
Immanuel Lutheran Cemetery (Gaylord)
Highway 22 North
Gaylord, MN
Obituary
Betty Lou (Olson) Doering was born on November 17, 1929, in Winthrop, Minnesota. She was the daughter of Bertel and Ethel (Otterstrom) Olson. Betty was baptized as an infant on December 13, 1929, and was later confirmed in her faith as a youth on May 9, 1943, both at First Lutheran Church in Winthrop. She received her education in Winthrop and was a graduate of the Winthrop High School Class of 1948.
On January 16, 1949, Betty was united in marriage to LeRoy Doering at First Lutheran Church in Winthrop. After their marriage, they lived in Winthrop for three years, they then moved to Gaylord. In 1963, they moved to the Doering family farm east of Gaylord. After LeRoy passed away, she moved into Gaylord. She was a loving mother and farm wife. Betty and Leroy were blessed with four sons and they shared 48 years of marriage before LeRoy passed away on January 21, 1997.
Betty was a member of Immanuel Lutheran Church in Gaylord and the Ladies Aid.
Betty enjoyed bowling, gardening, embroidering and circle a word puzzles. Everyone called her "Ma." She loved spending time with her family, especially her grandchildren and great-grandchildren.
When she needed assistance with her daily care, Betty became a resident of Oak Terrace Health Care Center in 2012, and passed away there on Sunday, August 30, 2015, at the age of 85 years.
Betty is survived by her:
Sons,    Michael Doering of Bristow, VA,
            Robin (Sharon) Doering of Glencoe, MN,
            Kevin (Christine) Doering of Bowling Green OH, and
            Scott (Lori) Doering of Gaylord, MN;
9 Grandchildren, Kina Scantlin, Jody Doering, Matthew (Jill) Doering, Sarah Mendy, Nathan (Stacy) Doering, Randi (Altin) Niklekaj, Danielle (Mahdi) Amira, Crystal Doering, and Nicole Doering;
11 Great-Grandchildren, Katherine Leon, Cassandra Doering, Rebecca Doering, Kyle Doering, Kellie Weatherford, Evelyn Weatherford, Nicolas Mendy, Ethan Doering, Colby Doering, Ramsey Amira, Kolton Niklekaj;
Brother, John (Charon) Olson of Mesa, WA,
Aunt, Lucille Orr of Edmonds, WA;
Sister-In-Law and Brother-In-Law, Alice (Ken) Ellig of Waconia, MN;
Brothers-In-Law and Sisters-In-Law, Don Berndtson of Bloomington, MN, Robert (Delores) Doering of LeSueur, MN;
Nieces, Nephews, other relatives and friends.
Betty was preceded in death by her Parents, Bertel and Ethel Olson; Husband, LeRoy Doering; Father-In-Law and Mother-In-Law, Lenhard and LeNetta Doering; Daughter-In-Law, Vicki Doering; Great-Grandson, Thomas Leon; Sister-In-Law, Shirley Berndtson.