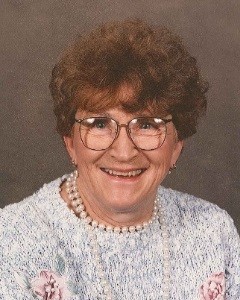 Service Information
Beverly Schultz, age 83, of Casa Grande, Arizona, formerly of Cosmos, Minnesota, passed away Monday, January 6, 2014, at the University of Arizona Medical Center in Tucson, Arizona. 
Funeral Service will be Friday, January 17, 2014, at 10:30 A.M. at Peace Lutheran Church in Cosmos. 
Interment in Peace Lutheran Cemetery.
Visitation will be Friday, January 17, 2014, from 9:00 – 10:30 A.M. at Peace Lutheran Church in Cosmos.
Service
Peace Lutheran Church
140 Saturn Street N
Cosmos, MN
Funeral Chapel
Hughes-Hantge Funeral Chapel
311 Main Street S.
Hector, MN 55342
Phone:(320) 848-6297
Obituary
Beverly Ann Schultz was born June 25, 1930, in Perry, Iowa, to Oliver and Greta (Bell) Sayles.  She attended school in Litchfield, Minnesota.  Beverly grew up in the Seventh Day Adventist Church, but was baptized in 1947 in the Peace Lutheran Church in Cosmos.
Beverly married Ermand Schultz on April 4, 1947, at Trinity Lutheran Church in Brookfield Township.  Through this union they were blessed with five beautiful children.  Beverly lived and loved life in Cosmos, Minnesota, with her husband Ermand, and upon retirement spent warm winters in Coolidge, Arizona.  Beverly touched the lives of many through her work as a Certified Nurse Assistant at the Cosmos nursing home and at the Lutheran Social Services in Litchfield.  A member of Peace Lutheran Church in Cosmos, Beverly was active with the Peace Lutheran Church Women.  She was also a member of the American Legion Auxiliary of Cosmos.  After Ermand passed away on April 29, 2010, Beverly became a fulltime resident of Coolidge, Arizona. 
Beverly cared deeply for her family and friends; she always had time to invite her neighbors in "for a cup of coffee."  She was an important part of the family, hosting many family gatherings at the farm in Cosmos.  She was a loving mother, grandmother, and great-grandmother.  Bev worked hard; she cared for her pets and spent many hours of enjoyment in her flower gardens and on embroidering.  She gained pleasure from shopping and riding with Oliver on his Harley motorcycle. She had a positive attitude, and was a strong, caring person.  Before leaving earth she once again captured the hearts of those around her, her medical staff and clergy, who had nothing but sweet interactions with her in her final hours.
Beverly passed away on January 6, 2014, at the University of Arizona Hospital in Tucson from a battle with pneumonia.  Blessed be her memory, she will be dearly missed.  
Beverly is survived by her children:
Dennis Schultz and his wife Nancy of Casa Grande, Arizona;
Carolyn Nygaard of Cokato, Minnesota;
LouAnn Kulberg and her husband Dave of Hutchinson, Minnesota;
William "Bill" Schultz and his wife Karen of South Haven, Minnesota; and
Oliver Schultz and his wife Diane of Atlanta, Georgia;
Grandchildren:  Dustin Schultz (Katie), William "Billy" Schultz (Katie), Erick Nygaard (Theresa), Kimberly Grob (Justin), Tammy Nygaard, Rey Schultz (Shannan), Dale Schultz, Melissa Thomas (Richard), Mindy Smith (Zach), Brittany Kulberg (special friend Todd Harris Jr.), Kim Mlodzik, Ben Kulberg (special friend Ume Phengpane);
Great-Grandchildren:  Miles Rinn (Kulberg), Merrick Thomas, Campbell Thomas, Paige Thomas, Ella Mlodzik, Cassandra Diffely, Carson Guerrero, Will Schultz, Weston Schultz, Eithian Edwards, Bricen Nygaard, Preston Nygaard, Logan Nygaard, Brennan Nygaard, Seth Grob, Breah Grob, Matthew Schultz, Katelyn Schultz, Hunter Schultz, Ethan Schultz, Jaxxon Mathews;
Brother Wallace Sayles and his wife Alice of Clinton, Minnesota;
Nieces, Nephews, other relatives, and friends.
Beverly was preceded in death by her mother and father, husband Ermand, son-in-law Wallace Nygaard, granddaughter Elizabeth Schultz, sisters Donna Lietzau and Coral Bartl, and by her brother Roger Sayles.