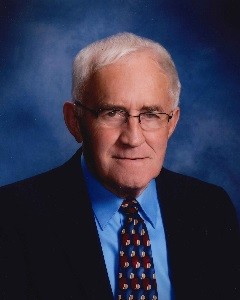 Service Information
Bob Trebelhorn, age 75, of Winthrop passed away Sunday, October 15, 2017, at Oak Terrace Health Care Center in Gaylord.
Memorial Services will be Wednesday, October 18, 2017, 11:00 A.M. at Zion Evangelical Lutheran Church in Winthrop with interment in the Winthrop Cemetery.
Gathering of Family and Friends will be Tuesday, October 17, 2017, from 4:00 P.M.-7:00 P.M. at Zion Evangelical Lutheran Church in Winthrop and will continue one hour prior to the service at the church on Wednesday.
Military Honors by the Winthrop Honor Guard.
Visitation/Gathering
Zion Evangelical Lutheran Church
608 Highland Drive W
Winthrop, MN
Service
Zion Evangelical Lutheran Church
608 Highland Drive W
Winthrop, MN
Funeral Chapel
Dalin-Hantge Funeral Chapel
209 West Second Street
Winthrop, MN 55396
Phone:(507) 647-5326
Cemetery
The Winthrop Cemetery
Winthrop, Sibley County
Winthrop, MN
Obituary
Robert Otto Trebelhorn was born June 20, 1942, in New Ulm, Minnesota. He was the son of Otto Trebelhorn and Ann (Burdorf) Trebelhorn. As an infant Bob was received into the kingdom of God through the washing of Holy Baptism on July 12, 1942, at Zion Evangelical Lutheran Church in Winthrop where he later confessed that faith at his confirmation on June 17, 1956. For 75 years, 3 months, and 25 days Bob steadfastly held to his John 3:16 confirmation verse:  "For God so loved the world, that he gave his only begotten Son, that whosoever believeth in him should not perish, but have everlasting life."
Bob graduated from Winthrop High School in 1960 and went on to attend the University of Minnesota where he received degrees in engineering and business. While in college Bob joined the Marines and remained in the reserves for over ten years. A new family started when Bob met Jane Okerlund and they married on April 24, 1965. The couple was blessed with a son Scott, a daughter Betsy, and 52 years of marriage. During the early years of their marriage, Bob and Jane lived in the Twin Cities where Bob worked for Honeywell and Control Data in the heart of the computer revolution. When Bob's dad retired from Standard Oil, Bob moved back to Winthrop in 1972 to take over the family fuel business. In the decades that followed, Bob accomplished many things in business and life. The business expanded and he built a new store in New Ulm. He was active in church and taught Sunday School for many years, he worked with the Chamber of Commerce in many capacities, and he volunteered in countless other ways.  Bob had a profound love of country and his service to the Winthrop Honor Guard was particularly important to him.
The joy in Bob's life didn't come from his accomplishments, but from his quiet, humble ability to serve others and especially his family. Few people knew the depth and quantity of lives that Bob touched with his empathic ability to do just the right thing at just the right time for others in need.  This was Bob's Christian ministry here on earth. Bob's family was so blessed to be anchored by this standard bearer; his example in faith, life, love, family, humility and complete selflessness will continue to inspire us to follow in his footsteps.
Bob's only boasts involved his wife, children and grandchildren. Every basketball score or first job experience was a momentous event for Bob.  His encouragement and excitement for all things big and small as they involved his family sustained him – especially in his later years.
Even in the face of a very long and challenging health struggle, Bob's faith remained absolute to the very end.  Bob's only sadness came in his inability to continue to serve others as he had always done.  Even in his diminished physical capacity, his faith, kindness and gentle acceptance of his circumstances continued to inspire up until his last breath.  Blessed be his memory.
Robert O. Trebelhorn is survived by:
wife,                   Jane Trebelhorn of Winthrop, MN;
son and his wife, Scott and Julie Trebelhorn;
daughter,             Betsy Gustafson and her fiancée, Darryl Bonderson;
grandchildren, Emma, Abigail, Ellie and Robby Trebelhorn, Jake and Jonny Gustafson;
step mother, Clara Trebelhorn;
sisters, Kathleen (Glenn) Olson, Margaret (Tom) Miller, Carol (Bill) Grant;
brothers, Ken (Denise) Trebelhorn, Mark (Colleen) Trebelhorn;
sisters-in-law, Judy (Jerry) Olson, Joyce (Jack) Thompson;
many cousins, nieces, nephews and friends.