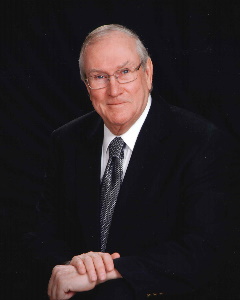 Service Information
Bradly Edgar, age 80, of Bird Island, Minnesota, passed away on Friday, July 8, 2022, at his home.
Memorial Service will be Saturday, July 30, 2022, at 11:00 A.M. at St. Paul's Lutheran Church in Hector, Minnesota, with interment in Hector City Cemetery.
Gathering of Family and Friends will be Friday, July 29, 2022, from 4:00-7:00 P.M. at Hughes-Hantge Funeral Chapel in Hector and will continue one hour prior to the service at the church.
Military Honors by the Carl O. Potter American Legion Post 135 of Hector.
Memorials preferred to St. Paul's Lutheran Church in Hector, Renville County Hospice, Buffalo Lake Healthcare Center's F.R.E.E. Program, or the Disabled American Veterans Charity.
Visitation/Gathering
Hughes-Hantge Chapel
311 Main Street South
Hector, MN
Website:hughes@hantge.com
Service
St. Paul's Lutheran Church
500 Cedar Avenue East
Hector, MN
Funeral Chapel
Hughes-Hantge Funeral Chapel
311 Main Street S.
Hector, MN 55342
Phone:(320) 848-6297
Cemetery
Hector City Cemetery
Renville County, Hector Township, Section 32
Hector, MN
Obituary
Bradly Clair Edgar was born on May 13, 1942 at his home in Sanborn, MN to Bruce and Helen (Powers) Edgar. He was baptized on July 26, 1942 at the Methodist Church in Sanborn. The family moved to Hartland when Brad was in the sixth grade. He attended school in New Richland until moving to Hector in 1957 during his sophomore year. He graduated from Hector High School in 1960. Brad attended Mankato State University, graduating in l964 with a Bachelor of Arts Degree in Business Administration and Economics.
After graduation, Brad worked for his father at the Hector Elevator for six months. In 1965 he joined the US Army Reserves and proudly served his country until he received an Honorable Discharge on November 6, 1970 having attained the rank of SP5. In 1965, he started work as a Credit Representative for International Harvester. On May 1, 1967, he was hired as a teller at the Security State Bank in Hector. Throughout his years at the bank, he became an Assistant Loan Officer, Assistant Cashier, Cashier, and Vice President. He was promoted to President in 1990 and remained in that position until his retirement in 2007.
Brad married Cheryl Anderson on September 23, 1967. Their marriage was blessed with three children – Bethany, Derek and Stephen. They made their home in Hector until moving to Bird Island in October, 2019. Brad's first love was his family. He cherished the time he was able to spend with his children and grandchildren and was so proud of each one of them.
Brad's lifelong love for the outdoors and sports began at an early age, spending time with his brothers and friends swimming in the Cottonwood River, exploring the wooded areas around Sanborn, or playing baseball. He spent many hours on the baseball field as a coach for Hector's Little League and American Legion Baseball teams, or playing centerfield for the Hector Flyers. He also enjoyed bowling, basketball, softball and golf. One of his favorites was the annual Edgar Open, where, for 42 years, he golfed with three generations of family members at courses throughout Minnesota, Wisconsin, Iowa and South Dakota.
Brad was happiest when he was out in the woods enjoying nature's beauty, hunting deer, pheasant hunting in South Dakota, or on a lake in northern MN or Canada fishing for walleyes with family and friends. Brad enjoyed listening to Country Western music, traveling throughout the US and reading books about the Civil War and Native American History.
Brad was an active member in the community, serving over the years as a member of St. Paul's Lutheran Church, Hector Lions, American Legion, Ducks Unlimited, Pheasants Forever, Kiwanis, Hector Economic Development Association, Ag Committee of the Minnesota Bankers Association, and past president of the Renville County Bankers Association. He also served on the Board of Directors of the Buffalo Lake Healthcare Center and Oakdale Country Club.
After struggling with multiple health issues over the past six years, Brad passed away peacefully at his home in Bird Island on July 8, 2022, having reached the age of 80 years.
He is survived by his: Wife, Cheryl of Bird Island; Daughter, Bethany Christenson of Baxter; Son, Stephen Edgar of Oskaloosa, IA; Grandchildren, Cassidy, Kylie and Kennedy Christenson, Adriana Biskey, Loghan and Tyler Edgar; Great-Grandchild, Ashtyn Patterson; Brothers, Terry (Natalie) Edgar of St. Louis Park and Randy Edgar of Bloomington; Sisters-in-law, Marcine Edgar of Lakeville and Annette Meeks of St. Peter; Brother-in-law, David (Carol) Anderson of Lake Oswego, OR; Stepmother, Marion Style of St. James; and many nieces, nephews and their families, as well as extended family members and friends.
He was preceded in death by his: Parents, Bruce and Helen Edgar; Son, Derek Edgar; Grandson, Matthew Edgar; Brothers, Roger and Keith Edgar; Father- and Mother-in-law, J. Donald and Arlein Anderson; and Brother-in-law, Robert Meeks.
Blessed be his memory.