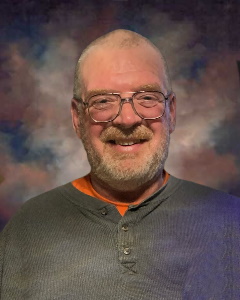 Service Information
Brian J. Krumrey, age 53, of Hector, Minnesota, passed away on Tuesday, September 13, 2022, at his home.
Celebration of Life Gathering will be Saturday, September 17, 2022, from 3:00 P.M. to 9:00 P.M. at Brad and Susan Krumrey's Home, 217 E. Hall Avenue, Buffalo Lake, Minnesota,
Memorial Prayer Service will be held at 5:00 P.M. on Saturday, September 17, 2022, at Brad and Susan's home.
Private Family Graveside Service in Zion Lutheran Cemetery in Buffalo Lake.
Memorials preferred. 
Funeral Chapel
Hughes-Hantge Funeral Chapel
311 Main Street S.
Hector, MN 55342
Phone:(320) 848-6297
Cemetery
Zion Ev. Lutheran Cemetery (Buffalo Lake)
Renville County, Preston Lake Twp, Section 30
Buffalo Lake, MN
Obituary
Brian James Krumrey was born on June 23, 1969, in Glencoe, Minnesota. He was the son of Kenneth Krumrey and Constance (Young) Maiers. Brian was baptized as an infant on July 20, 1969, and was later confirmed in his faith as a youth on April 29, 1984, both at Zion Evangelical Lutheran Church in Buffalo Lake, Minnesota. He received his education in Buffalo Lake, and was part of the last class to graduate from Buffalo Lake High School, Class of 1987. Brian furthered his education at Granite Falls AVTI for auto body for one semester.
On July 20, 1991, Brian was united in marriage to Susan "Sue" Bach at Zion Evangelical Lutheran Church in Buffalo Lake. This marriage was blessed with three sons; Austin, Dakota, and Wyatt. Brian and Sue purchased a farm site south of Buffalo Lake where they raised cattle, sheep, pigs, chickens, ducks, and geese. They shared 31 years of marriage.
In 1994, Brian was the first employee hired by his brother, Brad. He was a foreman at K & S Millwrights in Buffalo Lake, heading up a repair crew. Brian worked with Brad for 26 years, retiring in February of 2020 due to health issues. He truly enjoyed his job and working with the local farmers and companies. Troubleshooting was one of the passions of the job he enjoyed most, Brian was very mechanically inclined. If someone couldn't figure out a problem, you could bet they would be calling Brian direct. If he had a vision something would work, he would almost always make it work!
Brian was a member of Zion Evangelical Lutheran Church in Buffalo Lake, serving as a past trustee, and a member of their Improvement Committee. He was also a member of the Buffalo Lake Rod and Gun Club, Buffalo Lake Lions Club, and Minnesota Minn-e-Rod Club.
Brian had a passion for cooking, especially a hog roast. He roasted many pigs for graduations, weddings, and just because; never turning down the opportunity to butcher a pig and throw it on the hog roaster that he built. His heart was huge, if you needed anything, rest assured he would be there to lend a helping hand. Brian also enjoyed motorcycling, minn-e-rods, tinkering/working on any motorized vehicle, 4 x 4 off-roading, and hobby farming. He especially enjoyed spending time with his family and many friends. Brian was an incredible husband and dad; above all, he loved his family more than anything.
Brian was diagnosed with ALS in February of 2020. The disease took over his body, but Brian was a strong, tough, very independent man who wanted to stay in his house with his animals, family, and faithful wife until the very end. Brian peacefully passed away at home Tuesday morning, September 13, 2022, surrounded by his family; at the age of 53 years old.
Blessed be Brian's memory.
Brian is survived by his:
Wife, Sue Krumrey of Hector, MN;
Sons, Dakota Krumrey of Paynesville, MN and Wyatt Krumrey of Hector, MN;
Father, Kenneth Krumrey and wife, Julie of Buffalo Lake, MN;
Mother, Constance Maiers of Buffalo Lake, MN;
Siblings, Brad Krumrey and wife Susan of Buffalo Lake, MN;
Shyann Topel and husband Luke of Stewart, MN;
Kolt Krumrey and wife Rae of Hector, MN;
Shantay Schaufler and husband Rodney of Stewart, MN;
Kannon Krumrey of Buffalo Lake, MN;
Mother-in-law, Sandra Bach of Litchfield, MN;
Sister-in-law, Sherry Nelson of Litchfield, MN;
Godparents, Bob Richards of Buffalo Lake, MN and Marilyn Sell of Los Gatos, CA;
Farming Buddy and Cousin, Pat Krumrey of Buffalo Lake, MN;
Many other nieces, nephews, relatives and friends.
Brian was preceded in death by his son in 2008, Austin Krumrey. A sister in infancy, Laura Krumrey. Step-father, Joseph Maiers. Grandparents, Arvid and Ruth Krumrey, and James and Gladys Young. Father-in-law, Jerome Bach.