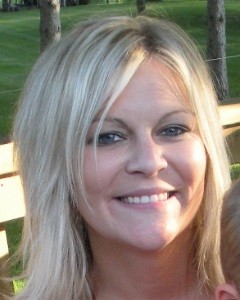 Service Information
Britany Larson age 32, of Fairmont, formerly of Hutchinson and Buffalo Lake, Minnesota, daughter of Quentin Larson and Jolene Reck, passed away on Thursday, August 4, 2016, as a result of a motor vehicle accident.
Mass of Christian Burial will be Wednesday, August 10, 2016, at 11:00 A.M. at St. Anastasia Catholic Church in Hutchinson. 
Interment will be held in the Church Cemetery. 
Gathering of Family and Friends will be Tuesday, August 9, 2016, from 4:00 - 8:00 P.M. at St. Anastasia Catholic Church in Hutchinson, with a Prayer Service and a time for sharing at 7:00 P.M.  Visitation will continue Wednesday for one hour prior to the service. 
Arrangements are with the Dobratz-Hantge Chapel in Hutchinson.
Visitation/Gathering
St. Anastasia Catholic Church
460 Lake Street South
Hutchinson, MN
Service
St. Anastasia Catholic Church
460 Lake Street South
Hutchinson, MN
Funeral Chapel
Dobratz-Hantge Funeral Chapel
899 Highway 15 South
Hutchinson, MN 55350
Phone:(320) 587-2128
Cemetery
St. Anastasia Catholic Cemetery (Hutchinson)
Hwy 15 N.
Hutchinson, MN
Obituary
Britany Beth Larson was born December 26, 1983, in Hutchinson, Minnesota, the daughter of Quentin and Jolene (Moldestad) Larson. She was baptized as an infant at St. Anastasia Catholic Church, and confirmed in her faith as a youth at St. John's Catholic Church in Hector. Britany attended elementary school at St. Anastasia in Hutchinson, and graduated with the Class of 2002 from the Buffalo Lake – Hector High School. She continued her education at Ridgewater College in Willmar and Rasmussen College in Bloomington, and earned her degree in Business Administration.
Britany was formerly employed with Mayo Hospital/Clinics, having worked in the St. Paul and Fairmont clinics. 
Britany loved life, and was the life of every party. Her humor and laughter was infectious, and she made friends easily wherever she was. Britany, through her humor, could find a silver-lining in any difficult situation. Her wit and sarcasm resulted in many long running pranks with friends and family. She took great pride in making her house a home, and enjoyed decorating and DIY projects for what she coined the "Dollhouse." Britany loved everything pop-culture, and never found a reality TV show she didn't like. She adored her fur-baby Yorkie dog, Cooper Nicholas (he had to have a middle name!) who brought her great joy, and comforted her in difficult times. In turn, she showered him with love; buying him special outfits and making him special food. She loved her family deeply, and wanted nothing more in life than to make them proud of her.
Her quick witted humor, her bright smile and the twinkle in her eye will be dearly missed by many.  Blessed be her memory.
Britany is survived by her:
Mother, Jolene Reck, of Inver Grove Heights;
Father, Quentin Larson and his wife, Pam, of Hutchinson;
Sister, Lyndsay Howard and her husband, Jason, of Mendota Heights;
Nephews, Mitchell Howard, Greyson Howard;
Grandparents: Kate Moldestad and Ivan Larson;
Aunts and Uncles: Carol and Doug Dobratz, Linda and Bob Wraspir, Dave Klitzke, Mark Larson, Jeff and Ivy Larson;
Step-Father, Tod Reck of Buffalo Lake;
Step-Sister and Step-Brother, Tammy Lindahl and Sean Lindahl;
Step Nephew, Austin Willett;
Many cousins, relatives and friends.
Britany was preceded in death by her Brother, Mitchell Larson; Grandparents, Clifford Moldestad and Mary Larson; Aunts, Kathy Klitzke and LeAnn Larson; and by her dog, Cooper.