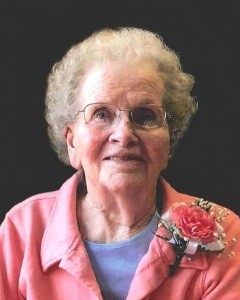 Service Information
Byrnice Peterson, age 86, of Buffalo Lake, formerly of Atwater, passed away on Wednesday, November 23, 2016, at the Buffalo Lake Healthcare Center in Buffalo Lake.
Funeral Service will be held Tuesday, November 29, 2016, at 11:00 A.M. at the Rosendale United Methodist Church in Danielson Township, rural Atwater.
Interment will be held in the Church Cemetery.
Visitation will be Tuesday, November 29, 2016, for one hour prior to the service, from 10:00 – 11:00 A.M., at the Rosendale United Methodist Church.
Visitation/Gathering
Service
Funeral Chapel
Hughes-Hantge Funeral Chapel
311 Main Street S.
Hector, MN 55342
Phone:(320) 848-6297
Cemetery
Obituary
Byrnice Adeline Peterson was born February 27, 1930, in Litchfield, Minnesota, the daughter of Walter and Agnes (Thompson) Larson. She was baptized in the town of Lake Elizabeth on August 27, 1930, and received the rite of confirmation as a youth. Byrnice graduated from the Atwater High School, and continued her education with Normal Teachers Training in Glencoe. She then taught country school in rural Atwater.
On June 23, 1951, Byrnice was united in marriage to Donald Peterson at the United Methodist Church in Rosendale. They made their home in Danielson Township north of Cosmos where they farmed the land and raised their four children. In October of 2011, Byrnice and Donald moved into a townhome in Buffalo Lake. Soon after Donald passed away on March 26, 2012, Byrnice moved in with her daughter Julie and Ken Krumrey and family. She lived with them until 2015 when she moved into the Buffalo Lake Healthcare Center.
Byrnice was a member of Rosendale United Methodist Church, and was a devoted member of the Church Prayer Group. She also sang in the church choir.  Byrnice cherished a close relationship with the Lord, reading the Bible, and turning to God in prayer.
Byrnice enjoyed her farm life working with Donald. She belonged to the Little Petunia Garden Club, and spent many hours in her flower and vegetable gardens. Reading was a favorite pastime, and she enjoyed doing ceramics. She was a faithful journal writer. Byrnice loved gathering her family for the holidays and preparing the big holiday meals. She loved her family.
Early Wednesday morning, November 23, 2016, Byrnice passed away at the Buffalo Lake Healthcare Center, having reached the age of 86 years. Blessed be her memory.
Byrnice is survived by her:
Children and their families:
Daughter, Barbara (and Curt) Schmalz of Buffalo, and their son Chad (and Jennifer) Schmalz of Buffalo Lake,
Son, Steven (and Donna) Peterson of Atwater, and their daughters: Trisha (and Philip) Kruse of Cosmos, Christa (and Cory) Wenish of Springfield, and Vanessa (and Brad) Luttel of Adrian,
Daughter, Sharlene (and Rodney) Knudsen of Mora, and their children: Brent (and Katie) Knudsen of Cloverdale, Amber (and Mike) Rahn of Zimmerman,
Daughter, Julie (and Ken) Krumrey of Buffalo Lake, and their children: Shyann (and Luke) Topel of Stewart, Kolt (and Rae) Krumrey of Hector, Shantay Krumrey of Buffalo Lake,  Kannon Krumrey of Buffalo Lake;
13 Great-Grandchildren;
Sister-in-law, Muriel Johnson of Annandale;
Other relatives, and friends.
Byrnice was preceded in death by her Parents, Walter and Agnes Larson, Husband, Donald Peterson, and by her Siblings, Eugene Larson and Duane Larson.