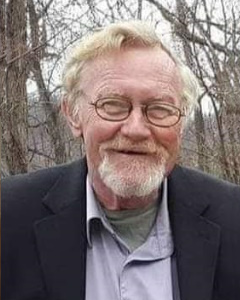 Service Information
Carl R. Lindee Sr., age 75, of Glencoe, Minnesota, passed away at his home on Friday, November 10, 2023.
A burial with Military Honors on December 15, 2023, at 2:30 pm at the Minnesota State Veterans' Cemetery. (33752 Noble Ave Redwood Falls, MN 56283)


Funeral Chapel
Johnson-McBride Funeral Chapel
1222 Hennepin Avenue
Glencoe, MN 55336
Phone:(320) 864-3737
Obituary
Carl Raymond Lindee was born on November 4, 1948, in Minneapolis, Minnesota. He was the son of Arvid Lindee and Vivian Walker. He was baptized as an adult in Glencoe, Minnesota. He graduated high school in North Branch, Minnesota.
Carl served in the Army for six years and was honorably discharged. Carl worked at GTE Telephone for just under 20 years. He married Koren Rivard on August 14, 1987, in Watertown, South Dakota. Carl enjoyed fishing, watching westerns, making people laugh, and spending quality time with his grandchildren. He cherished spending time with his kids and making trips out to the casino with them and his wife. Carl enjoyed spending time driving around and listening to music, classic country was one of his favorite genres.
Carl passed away at his home on Friday, November 10, 2023, at the age of 75 years surrounded by family.
Carl is survived by his
Spouse, Koren Lindee;
Sons, Carl Lindee Jr. and his wife Maggie, Quincy Lindee, Kasey Lindee, Kurtis Lindee and significant other Brianna Giese;
Daughters, Sandra Meichsner and significant other Ryan Carlson, Charlotte Rose (Lindee), Erin Lindee;
Grandchildren, Jake Lindee, AJ Lindee, Kayge Lindee, Quincy Lindee Jr., Jayden Lindee, Draxton Lindee, Nash Lindee, Tara Lindee, Brooke Lindee, Jeana O'Guin (Lindee), Natalie Lindee, Heather Meichsner;
Great-Granddaughter, Delilah Lindee;
Siblings, Art Lindee and his wife, Wilma, Leroy Lindee, Sue Shand and her husband, Jim, Nancy Gilliland, Mike Lindee and his wife, Bev, Chris Koecher and his wife, Lisa, Lucy Dantzscher and her husband, Scott.
Carl was preceded in death by Parents, Arvid Lindee and Vivian Koecher; spouse, Peggi Lindee; siblings, Bob Lindee and Annie Lindee; son-in-law, Nathan Meichsner; grandson, Matthew Meichsner.