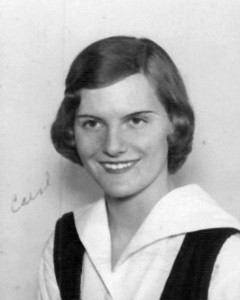 Service Information
Carol Ruth Attix (Vath), 80, passed away on Thursday, April 2, 2015, at Israel Family Hospice House in Ames, Iowa. Her graveside service will be at 10:00 A.M. Saturday, July 16, 2016 at the Zion Evangelical Cemetery in Buffalo Lake, Minnesota.
Funeral Chapel
Hughes-Hantge Funeral Chapel
311 Main Street S.
Hector, MN 55342
Phone:(320) 848-6297
Cemetery
Zion Evangelical Cemetery (Preston Lake Twp)
Renville County, Preston Lake Township
Buffalo Lake, MN
Renville
Obituary
Carol was born August 16, 1934 to William and Elsie (Werner) Vath, at home in Buffalo Lake. After graduating from high school, Carol lived in Kansas, California, Delaware, and Missouri before moving back to Buffalo Lake in the 1980s to live with and care for her eldest sister, Dorothy. In 1992, Carol moved to Ames, Iowa, where she shared a home with her daughter, Debbie.
Carol enjoyed professional baseball and was a San Francisco Giants fan when living in the Bay Area, and a St Louis Cardinals fan when living in Missouri and Iowa. She enjoyed watching the Iowa State University men and women's basketball games on TV. Carol stayed in contact with several high school friends, and she maintained other important relationships over the years. She liked to have friends over for dinner and conversation, and provided many well-cooked and appreciated meals. She kept current with local, national, and world events by watching three or more news broadcasts everyday as well as ongoing news programming on various channels. Carol liked to read, put together jigsaw puzzles, and play card games. She was a devoted caretaker to her four-legged "grandkitties." She loved all life, and had a special way with babies; and, for some unknown reason, could not say enough good things about trees. She gave generously to a variety of charities, especially those for homeless people and for associations helping veterans.
Carol was preceded in death by her parents, for whom she was the youngest of eight children. She cherished her siblings – brothers Wesley, Dennis, Lyle, and Gordon, and sisters Dorothy, Marvel, and Ruby. Ruby Milbrett, of Buffalo Lake, is her only surviving sibling. Carol was close with many of her nieces and nephews, both while growing up and also when she returned to live in Buffalo Lake. She looked forward to the Vath and Werner family reunions when she could catch up on their activities and families. She is survived by many nieces, nephews, and their spouses.
Carol is also survived by her son, David of Eureka, California, and his two children, daughter-in-law, and grandson; daughter Debbie of Ames, Iowa; and daughter Julie (Sue) of Elgin, Texas, and her daughter, son-in-law, and three grandchildren.
Carol's children invite you to join them for her graveside service, followed by lunch at Zion United Methodist Church in Buffalo Lake.