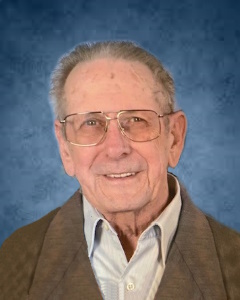 Service Information
Carroll J. Hamblin, age 81, of Hutchinson, Minnesota, passed away on Monday, April 24, 2023, at Harmony River Living Center in Hutchinson.
Memorial Service will be held on Saturday, April 29, 2023, at 11:00 A.M. at Peace Lutheran Church in Hutchinson with interment in Fort Ridgely Cemetery in Ridgely Township, Nicollet County, Minnesota.
Gathering of Family and Friends will be held one hour prior to the service at the church.
Memorials Preferred.
Visitation/Gathering
Peace Lutheran Church
400 Franklin Street SW
Hutchinson, MN
Service
Peace Lutheran Church
400 Franklin Street SW
Hutchinson, MN
Funeral Chapel
Dobratz-Hantge Funeral Chapel
899 Highway 15 South
Hutchinson, MN 55350
Phone:(320) 587-2128
Cemetery
Ft. Ridgely Cemetery (Ridgely Twp)
Ridgely Township, rural Fairfax
Fairfax, MN
Obituary
Carroll John Hamblin was born on January 31, 1942 in Beaver Township, Iowa. He was the son of Karl and Jennie (Hennessey) Hamblin. Carroll was baptized as an adult in Brownton, Minnesota. He received his education in Glencoe through the ninth grade.
Carroll entered active military service in the United States Army on September 21, 1967, in Glencoe, MN and served his country during Vietnam. He received an Honorable Discharge on April 26, 1969 at Fort Lewis in Washington, and achieved the rank of Specialist 4th Class.
On January 2, 1994, Carroll was united in marriage to Marlene Rannow in Hutchinson, MN. This marriage blessed Carroll with four step-children, Elizabeth, Chip, Kimberly and Nichole. Carroll and Marlene resided in Hector and Stewart before moving to Hutchinson. They shared 29 years of marriage.
Carroll was employed by Glencoe Manufacturing, Mueller & Sons and Form-a-Feed, before retiring in 2007. He was a member of the American Legion Post 96 and VFW Post 5102.
Carroll enjoyed listening to and watching the Minnesota Twins and Minnesota Vikings, fishing, bowling, fill-in puzzles and playing cards. He especially enjoyed spending time with his family, grandchildren and friends.
Carroll passed away on Monday, April 24, 2023 at Harmony River Living Center in Hutchinson, at the age of 81 years.
Blessed be his memory.
Carroll is survived by his:
Wife, Marlene Hamblin;
Step-Children, Elizabeth Retzlaff of Minneapolis, MN,
Chip (Mary) Retzlaff of Newport News, VA,
Kimberly (Jeff) Nelson of Albert Lea, MN,
Nichole (Steve Butterfield) Menk of Wood Lake, MN;
Step-Grandchildren, Cassandra Retzlaff, Seifidin Retzlaff, John Retzlaff, Adam (Megan Lindley) Nelson, Sydney (Sam Kahler) Nelson, Lydia (Steven Enriquez) Johnson, Benjamin Menk,
Great-grandchild, Canelo Enriquez;
Siblings, Ruth Mathews, Francis Hamblin, Darrell Hamblin, Harold (Violet) Hamblin, Josie (Jerry) Kales, Bill (Marilyn) Hamblin, Ron Hamblin;
Sisters-in-law/Brothers-in law, Yvonne Hamblin, Angie Rannow, Jan Bakken, Bea (Dick) Goetsch, Rick (Linda) Rannow, Chris (Jim) Kalenberg, Ken (Jane) Rannow;
Many other relatives and friends.
Carroll is preceded in death by his Parents, Karl and Jennie Hamblin; Siblings, Viola (Joe) Wurzberger, Raymond Hamblin, Virgil Hamblin, Donnis (Harvey) Beneke, Gale (Joann) Hamblin, Anna Hamblin, Ann Hamblin and Erwin Mathews. Father-in-law and Mother-in-law, Henry and Dorothea Rannow; Sisters-in-law and brothers-in-law, Eleanor (Roger) Hoff, Helen Renstrom, Ray Rannow and Warren Bakken.