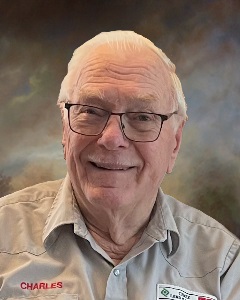 Service Information
Chuck "Chaz" Roepke, husband of Marlene, age 86, of Winthrop passed away Friday, December 30, 2022, at his home in Winthrop.
Memorial Service will be Thursday, January 5, 2023, 12 Noon at Peace Lutheran Church in Winthrop.
Gathering of Family and Friends will be from 10:00 A.M.-12:00 Noon (2 hours prior), ALL at the church.
Military Honors by the Winthrop Honor Guard.
Visitation/Gathering
Peace Lutheran Church
413 W 5th Street
Winthrop, MN
Service
Peace Lutheran Church
413 W 5th Street
Winthrop, MN
Funeral Chapel
Dalin-Hantge Funeral Chapel
209 West Second Street
Winthrop, MN 55396
Phone:(507) 647-5326
Obituary
Charles "Chuck" Gilbert Roepke was born on April 19, 1936, to Ervin and Clara (Kuehn) Roepke in Round Grove Township, Stewart, Minnesota. He was baptized and was confirmed at St. Matthew's Lutheran Church in Fernando. He received his education at District 37 Country School and Stewart and Brownton High School.
Chuck married Marlene Feige on June 10, 1962. They had three children, Scott, Dawn and Amy. They lived in Fernando and in 1962, they moved to Winthrop where they resided until the present time. They were members of Peace Lutheran Church in Winthrop where he served on the Church Council. He was a member of the Winthrop Lions Club and the American Legion.
Chuck worked at the Round Grove Creamery, 30 years at the Midland (Cenex) LP plant in Winthrop and the Nicollet Co-op Oil in Nicollet.
Chuck served his country in the National Guard Engineer Battalion for six years. He was called to active duty from 1961-1962 during the Berlin Crisis.
Chuck loved hunting deer and bear at their cabin near Pine River and also ducks and geese in the home area. He loved fishing in the summer and spearing pike in the winter.
Chuck and Marlene enjoyed traveling to Alaska, the European countries and most of the states and a Caribbean Cruise. His favorite entertainment was old time music. He was a self-taught concertina player starting at age 8. He was the Concertina player for the Fernando Dutchmen Band for 20 years and played at many Concertina Jamborees in the area.
Chuck enjoyed his children and grandchildren very much, especially when at the cabin up north.
Chuck passed away surrounded by his family on Friday, December 30, 2022, at his home in Winthrop at the age of 86 years. Blessed be his memory.
Chuck is survived by his:
Loving Wife,    Marlene Roepke of Winthrop, MN;
Son,                 Scott (Jennifer) Roepke of Hutchinson, MN;
Daughters        Dawn (Pete) Nesburg of Savage, MN,
                        Amy (Phil) Roepke-Hendrycks of Mound, MN;
Grandchildren, Maddie Roepke, Isaac Nesburg, Jacob Nesburg, Cale Hendrycks and Evie Hendrycks;
Sister, Val Uecker;
Sister-in-law, Norine Roepke;
Nieces, nephews, other relatives and friends.
Chuck was preceded in death by his Parents, Ervin and Clara Roepke; Brothers, Lloyd Roepke, Walter Roepke and Lyle Roepke: Sister-in-law, Rita Roepke.
"Obituary was written by Chaz Roepke"