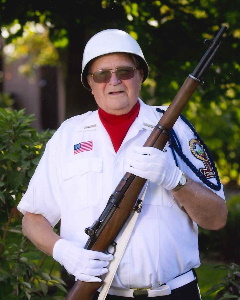 Service Information
Charles J. Burich, age 96, husband of Harriet, of Hutchinson, Minnesota, passed away on Friday, November 18, 2022, at The Gardens at Winsted in Winsted, Minnesota.
Graveside Service will be held Wednesday, November 23, 2022, at 1:00 P.M. at Oakland Cemetery in Hutchinson, followed by Fellowship from 2:00-4:00 P.M at the Hutchinson VFW.
Military Honors by the Hutchinson Memorial Rifle Squad.
Funeral Chapel
Dobratz-Hantge Funeral Chapel
899 Highway 15 South
Hutchinson, MN 55350
Phone:(320) 587-2128
Cemetery
Oakland Cemetery
805 Hwy 15 South
Hutchinson, MN
Obituary
Charles "Chuck" "Charlie" Joseph Burich III was born on March 21, 1926, in Hassan Valley Township, MN, the son of Charles and Frances (Molva) Burich. He was baptized on April 4, 1926, at St. Joseph Catholic Church in Silver Lake, MN. He lived in Hassan Valley Township until 1930. Charles was confirmed in October 1948, at Freidan (Peace) Lutheran Church. When his father passed away in 1930, they moved to Silver Lake. In 1934 his family moved to Hutchinson.
While attending Hutchinson Schools, Chuck began working at the Hutchinson Ford dealership at the age of 14. Chuck was drafted into the U.S. Army on July 26, 1944, serving during WWII in France and Germany. He was honorably discharged on June 24, 1946.
After serving his country, Charles returned to Hutchinson working as a mechanic at the local Ford dealerships specializing in rebuilding engines and automatic transmissions. For many years he was the tow truck operator for Plowman's Inc. In 1979, he was injured at work and had to discontinue the work he loved.
On May 12th, 1949, Charles was united in marriage to Harriet Saar of Hutchinson. Their marriage was blessed with three children: LeAnn, Bradley and Robert.
Charlie worked and played hard, enjoying fast-pitch softball, bowling, fishing and hunting. In his later years, he enjoyed watching sports, listening to old time music, playing bingo, and visiting with friends.
Chuck was a lifetime member of the Brownton Rod and Gun Club, V.F.W. Post 906 and the American Legion Post 96. He was also proud to be a charter member of the Hutchinson Memorial Rifle Squad.
Charles is survived by his wife Harriet; children LeAnn Burich of Shoreview, Bradley (Julie) Burich of Hutchinson, Robert (Diane) Burich of Champlin; five grandchildren Jessica, Jordan, Andrew, Jeffrey, and Jacob (Kourtny) Burich; along with a niece, nephews, and friends.
He was preceded in death by his parents Charles and Frances Burich, and stepfather Walter Pawlek; sisters Frances (Bernie) Kottke, Florence (Wolford) Posusta, Evelyn (Francis) Ardolf; brothers Clarence (Barbara) Burich, Milan (Merva) Burich, Milo Burich (in infancy).