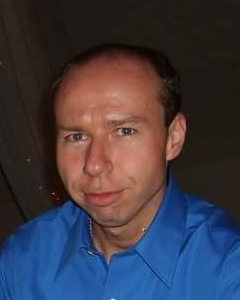 Service Information
Christopher Gerhard Ziemann, age 40, of Maple Grove, Minnesota, and formerly of Stewart, Minnesota, passed away Monday, January 4, 2016 at his home in Maple Grove, Minnesota.
Memorial Services will be held Friday, January 8, 2016, 11:00 A.M. at St. Matthew's Lutheran Church (Fernando) in Stewart, Minnesota, with interment following at St. Matthew's Lutheran Cemetery in Stewart, Minnesota.
Visitation will be held Thursday, January 7, 2016, from 4:00 – 8:00 P.M. at Johnson-McBride Funeral Chapel in Glencoe, Minnesota, and will continue one hour prior the service at the church on Friday.
Visitation/Gathering
Johnson-McBride Funeral Chapel
1222 Hennepin Avenue
Glencoe, MN
Website:hantge.com
Service
St. Matthew's Lutheran Church - Fernando
2402 County Road
Stewart, MN
Funeral Chapel
Paul-McBride Funeral Chapel
218 Hill Street W
Norwood - Young America, MN 55368
Phone:(952) 467-3281
Cemetery
St. Matthew's Lutheran Cemetery (Fernando)
2402 CR 7
Stewart, MN
Obituary
Christopher Gerhard Ziemann was born on November 29, 1975, in Glencoe and raised in Stewart, Minnesota.  He was the son of Gerhard and Sandra (Stark) Ziemann.  Christopher was baptized as an infant on December 25, 1975, and confirmed his faith on May 6, 1990, by Rev. Bob Miner both at St. Matthew's Lutheran Church in Fernando, Minnesota.  Christopher was raised on a dairy farm with three sisters, Michelle, Jacqueline & Racquel.  Together they learned how to run farm equipment, care for the crops and livestock.  Christopher was diagnosed with Juvenile Diabetes and Rheumatoid Arthritis at age 14.
He attended Kindergarten - Tenth grade at Stewart Public School.  Stewart and Brownton combined as McLeod West High School his junior year in high school.  Christopher graduated with the Class of 1994 with high honors.  Christopher furthered his education at Rasmussen College in Minneapolis by receiving an Associate Degree in Higher Accounting/ Business Management.  He purchased his first home in Plymouth.  The last 10 years his residency was in Maple Grove.
He began his career at TCF Banks after graduating from Rasmussen College.  Christopher was an Investment Service Representative along with his father giving investment seminars throughout Minnesota.  Christopher continued his accounting career in 1999 with Wells Fargo Bank in Minneapolis (15+ years).  He handled income taxes for his friends and family which recently resulted into becoming a Tax Consultant for H&R Block on weekends. 
He loved spending time with family and friends.  He celebrated many birthdays, holidays and special occasions at the homestead farm, Mickeyland USA.  Christopher enjoyed sports and collecting sports cards.  He participated in fantasy football, volleyball, baggo, Z-Bus Tours and darts.  Christopher was known as the "Z-Man" and "Dart Commissioner".  He would call his league night the "Z-Man Dart League".  He absolutely loved playing the game of darts with friends.  He traveled to several tournaments in Minnesota such as Duluth, Rochester and Hinckley.  He received several awards and trophies individually and as a Team.  Flights to Las Vegas for dart tournaments and Cancun to relax were his frequent vacation spots bringing family and friends with him.  Christopher also traveled to Germany with his grandfather, Milo and cousins.  He even experienced a couple of fishing trips to Canada.  Christopher had several wonderful traits as the social media records: made people laugh, one of a kind, loving brother, friend, teammate, roommate, big hearted, fun guy, entertaining, buddy, colleague, travel partner, kind, black jack buddy, tax man, smart, jersey supplier, funny, dart man, helping, caring and the list goes on….. Full of stories and made many good memories with friends and family.
Christopher passed away on Monday, January 4, 2016, at his home in Maple Grove, Minnesota, at the age of 40 years, 1 month and 6 days.  He will be deeply missed by family and friends.  Blessed be his memory.
Christopher is survived by his:
Parents, Gerhard & Sandra Ziemann of Hutchinson, MN;
Sisters, Michelle Nordman and her husband, Quin, and their children, Collin & Alisha, of Roseville, MN;
Jacqueline Diepold and her husband, Randy, and their children, Emmitt, Payton & Dylan of Stewart, MN;
Racquel Kiecker and her husband, Don, and their children, Olivia & Landon of Hutchinson, MN;
Grandfather, Milo Ziemann of Stewart, MN;
Many Uncles, Aunts, Cousins and Friends.
Christopher is preceded in death by his Brother, Jeffrey Allan Ziemann; Nephews, Joshua Nordman, Aaden Kiecker; Grandparents, Agnes Ziemann, John & Lucille Stark.