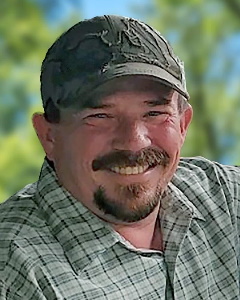 Service Information
Clark Alan Alsleben, age 54, of Arlington, Minnesota, passed away surrounded by his family on Sunday, November 6, 2022, at Abbott Northwestern Hospital in Minneapolis, Minnesota, following a brief illness.
Visitation for Clark will be held Friday, November 11, 2022, from 4:00 – 8:00 P.M., and Saturday, November 12, 2022, from 9:00-11:00 A.M., 2 hours prior to the service all at Immanuel Lutheran Church in New Auburn, Minnesota.
Funeral Service for Clark Alan Alsleben and his brother Mark Henry Alsleben (who passed away on October 12, 2022) will be held Saturday, November 12, 2022, 11:00 A.M. at Immanuel Lutheran Church in New Auburn, Minnesota, with interment following at High Island Cemetery in New Auburn, Minnesota.
Visitation/Gathering
Immanuel Evangelical Lutheran Church
8374 8th Avenue
New Auburn, MN
Service
Immanuel Evangelical Lutheran Church
8374 8th Avenue
New Auburn, MN
Funeral Chapel
Johnson-McBride Funeral Chapel
1222 Hennepin Avenue
Glencoe, MN 55336
Phone:(320) 864-3737
Cemetery
High Island Cemetery (New Auburn)
8303 8th Ave.
New Auburn, MN
Obituary
Clark was born on February 13, 1968, in Arlington, MN to Hillard and Clarice (Fisher) Alsleben.  Clark arrived much later than his older siblings and was and always has been "the favorite."  (They lovingly gave him the nickname "Punker.")
He was baptized as an infant on March 10, 1968, and confirmed on June 6, 1982, at St. Paul's Lutheran Church in Green Isle, MN.  He received his education at the Arlington-Green Isle Public School, graduating with the class of 1986.  After graduation, Clark worked various jobs in the carpentry and construction industry and worked for the University of Minnesota Landscape Arboretum for over 28 years.
On May 24, 2008, Clark was united in marriage to Beth Rechtzigel, in Gaylord, MN.  They made their home in New Auburn, MN, until they purchased a farm in Arlington, MN in May 2021, with plans to set themselves up to enjoy their hobbies such as hunting for Clark, and gardening for Beth.
Clark had an infectious smile, quick wit, fun-loving personality and was often described as the life of the party.  Clark's interests included hunting, fishing, and playing cards.  Clark was a wonderful papa to his granddaughter Emma, and he was always willing to play whatever game Emma proposed and would often be seen at family gatherings on the floor playing with the kids. 
Clark was one of those rare people that could be really good at almost anything he put his mind to - a skilled carpenter, mechanic, talented musician, golfer, hunter, cribbage player, and jokester, fun-loving, and all-around genuinely nice person who was always ready to help anyone.  He was loved by so many and will be dearly missed. 
He is survived by his wife Beth;
Children, Brent Alsleben of New Auburn, MN,
                Stacia (Zack) Alsleben-Schulz of Milaca, MN,
                Kayla Baumann and fiancé Andy Cohrs of Glencoe, MN,
                Alex Baumann of Mankato, MN;
Grandchildren, Emma Jean Lemke of Glencoe, MN,
                          Baby Schulz due in June of 2023;
Future grandchildren, Jaidyn Cohrs of Glencoe, MN,
                                    Julia Cohrs of Arlington, MN,
                                    Christian Cohrs of New Ulm, MN,
                                    Austin Cohrs of Hutchinson, MN;
Siblings: Kathy (George) Lenz of Chaska, MN,
               Penny (Greg) Kube of Norwood-Young America, MN,
               Lana (John) Woehler of Arlington;
Many nieces, nephews, in-laws, other relatives and many friends.
Clark was preceded in death by his father, Hillard Alsleben and brother, Mark Alsleben.