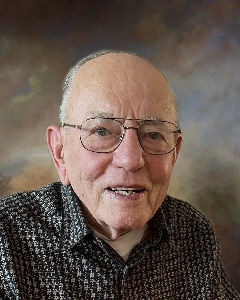 Service Information
Clifford Bussler, husband of June, age 89, of Brownton, Minnesota, passed away on Saturday, October 21, 2023, at his home in Brownton.
Memorial Service will be held Tuesday, November 7, 2023, 11:00 A.M. at Immanuel Lutheran Church in Brownton, with interment in the church cemetery.
Gathering of Family and Friends will be held from 9:00-11:00 A.M., two hours prior to the service at the church.
Memorials preferred to McLeod County Fair, McLeod County 4-H and Immanuel Lutheran Church Cemetery fund.
Visitation/Gathering
Immanuel Lutheran Church
700 Division Street
Brownton, MN
Service
Immanuel Lutheran Church
700 Division Street
Brownton, MN
Funeral Chapel
Dobratz-Hantge Funeral Chapel
899 Highway 15 South
Hutchinson, MN 55350
Phone:(320) 587-2128
Cemetery
Immanuel Lutheran Cemetery (Brownton)
5th St.
Brownton, MN
Obituary
"My flesh and my heart may fail, but God is the strength of my heart and my portion forever." — Psalm 73:26
It is with extreme sadness that the family of Clifford Richard Bussler, 89, announces his passing after battling heart disease. He joined his Lord and Savior after falling into the Lord's hands on Saturday, Oct. 21, 2023. It was more than appropriate that Clifford joined God after passing away peacefully at his home with family at his side on the family farm in Penn Township, rural Brownton, which was the fourth house on three different places all within a half-mile that he lived in during his lifetime.
While Clifford's heart may have given out, God is in his heart, and he will forever be by the side of Jesus Christ as the Psalm verse indicates.
Clifford was born on March 16, 1934 to Richard and Nora (Grewe) Bussler in Penn Township, just a half mile away from where he died. He was baptized in April 1934 by Rev. J. Kulberg and later confirmed in April 1948 at St. Matthew's Lutheran Church Penn Township. He attended District 32 School for eight years riding to school on a cart and pony. He went on to graduate with the Class of 1952 from Brownton High School. In his early years, Clifford enjoyed playing the saxophone, a tradition that has continued over the next two generations. After graduation, he joined the family farm and began a 50-year journey of a purebred hog business, along with crop farming.
In April 1958, he served in the U.S. Army Reserve before being honorably released from active duty. He continued with reserve training for five additional years.
On June 9, 1959, he was united in marriage to June Bentz Engelmann at Church of Peace in Glencoe. Their marriage was blessed with three children: Greg, Rick and Jana. Clifford and June enjoyed nearly 65 years of marriage before his death.
Clifford's roots in agriculture date back to the 1940s when he was growing up on the family farm and became involved in 4-H. His career in swine genetics grew out of a dream he had in 4-H. He credited 4-H with planting the seed of his career in agriculture. He essentially started with nothing and went on to build a leading hog operation across Minnesota and the Midwest all on his own. In 1948, Clifford convinced his dad to buy a red barrow for his 4-H project, which grew from that single animal to an operation of more than 1,500 head per year.
The Busslers registered Holstein cattle under the farm name, "Willow Lane Stock Farm." That name came from a row of willows which Clifford's parents planted near the yard road in the 1940s. When he sold the cattle, he changed the name to "Bussler Durocs," a business that continued until he retired in 1998.
Clifford added a new business partner in 1959 when he married June. She was active right along side of him until they sold the farm in 1999 because of health reasons. He was especially proud to sell the farm all on his own. Although Bussler Durocs became history, it didn't happen without Clifford leaving his mark on the hog industry.
He achieved many milestones, accomplishments and awards over the years. He served on the Minnesota Duroc Breeders Association Board of Directors and was a charter member of the McLeod County Pork Producers. He exported hogs to the Dominican Republic, Philippine Islands and Canada. He was featured in many area newspapers as well as state and national trade publications.
Over the years, Clifford hosted people on his farm from the Dominican Republic, Japan, South America, Chili, China, Mexico, Canada, Norway, Sweden, Russia and Philippines.
Clifford was honored with many awards throughout his lifetime. In 1954, he won a trip to National 4-H Club Congress. Some other awards included: Minnesota State Fair champions, National Barrow Show, National 4-H Alumni Award and Minnesota Farm Family of the Year. His most coveted award came at the end of his career in 1999 when he was named to the Minnesota Livestock Hall of Fame.
Besides being involved in agriculture groups and organizations, Clifford was very active on the community level. He served on the McLeod County Extension, McLeod County Farm Bureau, Minnesota Extension Citizens Advisory Committee, McLeod County 4-H, Brownton School FFA Advisory Committee, University of Minnesota Legislative representative and the McLeod County Fair Board, which was his pride and joy. He continued being active with the fair until his death, and most recently, was involved in the 2023 fair. In 2022, the fair honored him for 65 years of service.
It wasn't only hogs that were important to Clifford. His faith played a key role in how he lived his life. He was a long-time member of St. Matthew's Lutheran Church Penn Township before joining Immanuel Lutheran Church in Brownton where he served as president and deacon.
Outside of farm and hog work, Clifford took immense pride in studying patterns of Cut Glass from the late 1800s. He searched and hunted down Cut Glass from all corners of the world. He traveled to many places for his love of glass. In addition, Clifford loved to decorate for the holidays, often winning holiday lighting contests in the area. He loved to care for his farm, always making it look special and spending eight hours mowing the lawn.
Perhaps most importantly, along with his faith, Clifford was a family man and took great pride in watching the success of his three children and seven grandchildren. He was faithful in attending his grandchildren's activities. He enjoyed playing many games, especially the Rook card game, which started with a next door childhood friend. He also was an avid sports fan who enjoyed watching all Minnesota teams. Clifford and June enjoyed traveling to places like Alaska, Germany, Branson, Seattle, South Dakota and the New England states.
Clifford is survived by his wife of 64 years, June; sons, Greg and his wife Jean of Sun Prairie, Wis., Rick and his special friend Michelle Leonard of Lakeville and daughter, Jana Hein and her husband Tim of Roberts, Wis.; grandchildren, Jason Bussler of Iowa City, Hannah Nugent and her husband Ryan of Faribault; Kyrie Bussler of Minneapolis, Caleb Bussler of Nashville, Jacob Hein of Minneapolis, Cailyn Bussler of Lakeville and Nathan Hein of Roberts, Wis. He is also survived by his brothers, Steven and his wife Debbie of Waconia and Darrol Bussler, also of Waconia, as well as many cousins, a niece and nephews.
He was preceded in death by his parents, Nora and Richard Bussler, father-in-law and mother-in-law, Edwin and Eleanor Engelmann; brother-in-law, Glen Engelmann, and many aunts, uncles, cousins and a nephew.
Clifford was a loving and devoted husband, father and grandfather. He will be sorely missed, but the family takes refuge in knowing he is in a better place with his Lord and Savior. Blessed be his memory.