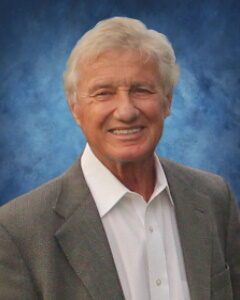 Service Information
Curtis A. Sampson, age 87, of Hector, Minnesota, passed away on Thursday, July 16, 2020, at his home in Hector.
Celebration of Life will be held on Tuesday, July 6, 2021, at 2:30 P.M. in the Canterbury Park Expo Center in Shakopee, Minnesota with a social hour to follow. Please park in the main lot and enter through the Expo Center.
First Post is at 5:00 P.M. and guests are welcome to stay for the race.
Funeral Chapel
Hughes-Hantge Funeral Chapel
311 Main Street S.
Hector, MN 55342
Phone:(320) 848-6297
Obituary
Curtis Sampson compiled a long list of achievements during his 87 years as a businessman, philanthropist, community leader, and father. He saved horse racing in Minnesota with his purchase of Canterbury Park. He built a string of multimillion-dollar businesses in his hometown of Hector, and he was a tireless volunteer for causes he cherished.
But that's not what made him truly unforgettable. Curt, who passed away peacefully July 16 at his home in Hector, will be remembered for the joy he found in connecting with people throughout his life. Whether you worked in the boardroom at Communications Systems, Inc., or in the barn at Canterbury Park, you could always count on a warm greeting and heartfelt conversation from a man whose success was built with a smile.
Born to Selmer and Sophie Sampson on July 6, 1933, Curt was the 8th of 10 children.  He graduated from Hector High School in 1951 and the University of Minnesota in 1955.  He married Marian Walter in Buffalo Lake in 1954 and they had four children; Sons, Paul (Karen), Randy (Susan) and Russ (Donnelle), Daughter, Susan Puchalski (Corey).
After honing his business acumen at the U of M's Carlson School of Management, he took a public accounting job in Minneapolis. That lasted just three months. A small-town guy at heart, Curt returned to Hector to work for the phone company and would live there for the rest of his life. He rose through the ranks of the finance department at Minnesota Central Telephone and Midwest Telephone Company, then founded Communications Systems, Inc., in 1969. Curt spent more than 50 years in the telecommunications industry, later forming North American Communications Corporation and Hector Communications Corporation.
It was a fitting career path for a man who loved to make connections with people from all walks of life. Curt knew all the movers and shakers in the business world, but he also knew the names of every employee at CSI. His circle of acquaintances grew much larger at Canterbury Park, which he bought out of bankruptcy in 1994 with his son Randy and business partner Dale Schenian.
The Sampson family started racing and breeding horses in the 1980s when the track—then Canterbury Downs—brought pari-mutuel racing to Minnesota. It shut down in 1992, leaving the state's racing industry on the brink of collapse. Curt risked a significant chunk of his wealth to finance the purchase from Irwin Jacobs, giving the track new life as Canterbury Park.
Racing wasn't just another business to Curt, who genuinely loved the sport, the horses, and the people around them. As chairman of the board, his personality and business philosophy helped guide Canterbury toward long-term stability. With Curt and Randy working side-by-side, the track earned a national reputation for its lively crowds, family-friendly atmosphere, and cooperation between management and horsemen.
Canterbury also provided a new outlet for Curt's gregarious nature. If he wasn't in the winner's circle with the family horses, he was working the grandstand, making sure every guest was having a good time.
Curt's ability to connect on a professional and personal level further strengthened Minnesota racing in 2012. The relationship he developed with Stanley Crooks, the late chairman of the Shakopee Mdewakanton Sioux Community, helped pave the way for a decade-long partnership with SMSC that increased the purses available to the state's horse owners.   Curt honored Crooks by naming one of his thoroughbreds after him, and Chairman Crooks turned out to be Curt's all-time favorite horse.
A multi-sport athlete in his youth, Curt's sturdy pitching arm kept him in baseball for decades. He played many years with his town team, the Hector Flyers, and began attending Twins fantasy camps in his late 50s.
Curt baffled batters with his screwball and slider for another 25 years as he competed on the fantasy camp diamond with his sons and grandsons as teammates. When he was 77, he gave up just one hit over 4 2/3 innings at an exhibition game in Fairfax, facing a lineup that included former Twins Corey Koskie and Terry Steinbach. At the Twins fantasy camp in 2014, Curt, then 81, won the Cy Young Award for pitchers over age 50.
Curt also got his pilot's license when he was 74, fulfilling a longtime passion for flying.
As a father and grandfather, Curt enthusiastically attended youth sports events and served as a Boy Scout leader. He was also an avid outdoorsman and enjoyed hunting and fishing with his sons, grandsons, and extended family.  He was a conservationist, buying and preserving over 1,000 acres of natural habitat for generations to come. Curt was inducted into the Minnesota Business Hall of Fame in 2012 and was named Mn Small Business Person of the year in 1978.  He served with several businesses, civic and educational organizations, including the University of Minnesota Foundation, the Carlson School board of advisors, the Augsburg College board of regents, the Hector Kiwanis Club, and several telephone industry boards.
Curt will be missed by his family, friends, business associates, and patrons at Canterbury Park, who always delighted in chatting with "the boss.''
Curtis is survived by his:
Wife, Marian Sampson of Hector, MN;
Children, Paul Sampson and his wife, Karen, of Onalaska, WI,
               Randall Sampson and his wife, Susan, of Chanhassen, MN,
               Russell Sampson and his wife, Donnelle, of Prior Lake, MN,
               Susan Puchalski and her husband, Corey, of Richfield, MN;
Grandchildren, Reene Sampson and her husband, Jay Haskell, of Onalaska, WI,
                        Matthew Sampson and his wife, Jenna, of La Crosse, WI,
                        Joseph Sampson and his wife, Sara, of La Crosse, WI,
                         Rachel Gregor and her husband, Marty, of Young America, MN,
                         Taylor Sampson and his wife, Georgia, of Shakopee, MN,
                         Adam Sampson of Minneapolis, MN,
                         Jack Sampson of Shakopee, MN,
                         Sophia Sampson and her fiancée, Thomas Sievers, of Prior Lake, MN,
                         Luke Puchalski and his wife, Jessica, of Minneapolis, MN,
                         Alaina Owen and her husband, Joshua, of Van Buren, AR,
                         Joshua Puchalski of Richfield, MN;
Great-Grandchildren, Moe Haskell, Elliot Sampson, Isla Sampson, June Sampson, Harrison Gregor, Ruth Sampson, Mabel Sampson, Henrik Puchalski;
Sister, Ruth Naomi (Sampson) Stormo;
Curtis is preceded in death by his Parents, Selmer and Sophie Sampson; Siblings, Alden Roland Sampson, Selvin Everett Sampson, Mavis Geraldine (Sampson) Layman, Alta Anetha (Sampson) Nelson, Ellsworth Bernard Sampson, Wayne Emmet Sampson, Marjorie Ann (Sampson) Cooper, Maureen Carolyn (Sampson) Kohout.