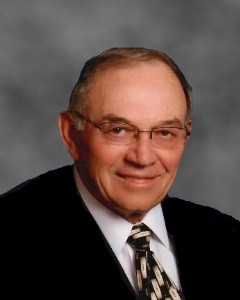 Service Information
Dale Peters, age 76, of rural Brownton, husband of LeaEtte Peters, passed away Thursday, February 4th, 2016, at the Mayo Health Center in Mankato.
Funeral Services will be held Monday, February 8th, 2016, at 2:00 P.M. at St. Johns Church in Hassan Valley Township, with interment in the church cemetery.
Visitation will be held Sunday, February 7th, from 5:00-8:00 P.M. and Monday, February 8th, from 8:00 to 10:00 A.M. at the Dobratz-Hantge Chapel in Hutchinson and will continue one hour prior to the service at the church. 
Military Honors will be by the Glencoe American Legion Post #95
Visitation/Gathering
Dobratz-Hantge Chapel
899 Highway 15 South
Hutchinson, MN
Website:hantge.com
Service
St. John's Church - Hassan Valley Township
13372 Nature Avenue
Hutchinson, MN
Funeral Chapel
Dobratz-Hantge Funeral Chapel
899 Highway 15 South
Hutchinson, MN 55350
Phone:(320) 587-2128
Cemetery
St. John's Church Cemetery (Hassan Valley Twp)
13372 Nature Ave., Hassan Valley Township, Biscay/rural Hutchinson
Biscay, MN
Obituary
Dale Elmer Peters was born on January 1, 1940, in Sumter Township, McLeod County, Minnesota. He was the son of Elmer & Inez (Hatz) Peters. Dale was baptized as an infant, on March 24, 1940, by Pastor P. Weltge and was later confirmed in his faith as a youth on September 7, 1952, by Rev. Walter C. Fischer, both at St. John's Evangelical & Reformed Church in Hassan Valley Township, in McLeod County, Minnesota. Dale attended country school District #30, in Sumter Township, grades 1-7, and then transferred to the Glencoe Public School, District #422, for the 8th grade. He then attended grades 9-12 at Brownton Public School District #421 and was a graduate of the Brownton High School Class of 1957.

Dale attended boot camp in the summer of 1957, at the Naval Air Station in Minneapolis, Minnesota. He was on active duty in the United States Navy April 8, 1958, through March 7, 1960, stationed at the Naval Air Facility in Annapolis, Maryland. He was honorably discharged as a 3rd Class Petty Officer on April 17, 1963.

Dale was united in marriage to Lea Ette Hantge on November 25, 1966, by Rev. E.W. Dohmeier, at St. Matthew's Lutheran Church in Penn Township, McLeod County, Minnesota. They lived on the Peters family farm in Sumter Township throughout their married life. Their marriage was blessed with two sons, John and James Peters. They shared 49 years of marriage together.

Dale began farming with his father in 1960. The Peters family farm was homesteaded in 1862. He was the 4th generation to operate the farm. Dale was a Funks G. Seed Corn Dealer for many years and also grew and sold certified seed. He enjoyed operating John Deere farm machinery and had a deep rooted interest in the land. Dale and Lea Ette continued the farming operation through 1990. He was then employed by Cash Wise Foods through 1994, Hutchinson Technology 1995-2001 and at Wal-Mart in Hutchinson, Sept 2001 through December, 2007.

He was a past member of the Sumter Township A.S.C.S. Committee. Dale has served as an Election Judge for Sumter Township and was on the Sumter Township Board for many years, serving as a clerk and supervisor. He was a lifelong member of the Brownton Rod & Gun Club, served on the board as secretary, treasurer, vice president & president and was involved in the club's activities. Dale was a member of the American Legion Post #95 in Glencoe, Minnesota and a Charter Member of the Elks Lodge #2427 in Hutchinson. He especially enjoyed serving on the Board of Directors for the McLeod Coop Power Association for 30 years. He was an active lifelong member of St. John's Church in Hassan Valley Township and previously served on the Church Council as the chairman, treasurer and the cemetery board for many years.

Dale was a loving husband and father. He was devoted to his family. Dale enjoyed watching movies, dancing, playing cards, hunting, and fishing. He loved working outdoors and took great pride in doing yardwork. Dale and Lea Ette had many fun vacations.

Dale passed away on Thursday, Feb. 4, 2016 at Mayo Hospital in Mankato at the age of 76 years. Blessed be his memory.

He is survived by his
Wife, Lea Ette Peters of Brownton, MN;
Sons, John Peters and his wife, Kelly of Riverdale, IA,
James Peters of North Mankato, MN;
Granddaughter, Emma Rose Peters of Riverdale, IA;
Brothers-In-Law, Everett Hantge and his wife, Katherine of Hutchinson, MN,
Don Hantge and his wife, Bobbi of Hutchinson, MN,
Eldon Hantge and his wife, Marilyn of Glencoe, MN;
Sister-In-Law, Norene Schuette and her husband, Duane of Glencoe, MN;
Many nephews, nieces, great nephews, great nieces, other relatives and friends.

He was preceded in death by his Grandparents, George & Laura Peters, Adam & Ernestine Hatz; Parents, Elmer & Inez Peters; Father-In Law and Mother-In-Law, George and Selda Hantge; Sisters-In-Law, Rhonda Buske , Jean Hoof and her husband, Myron, and Maureen Hantge