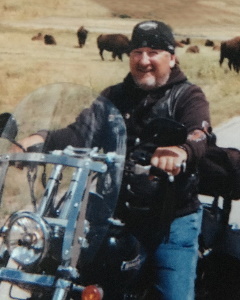 Service Information
Dale S. Thomas, age 70, husband of Valerie J. Thomas, of Cosmos, Minnesota, passed away on January 9, 2022, at Hutchinson Health in Hutchinson, Minnesota.
Memorial Service will be held on Friday, January 14, 2022, at 11:00 A.M. at Peace Lutheran Church in Cosmos, Minnesota.
Military Honors  by the Cosmos Honor Guard.
Gathering of Family and Friends will be held one hour prior to the service at the church.
Funeral Chapel
Dobratz-Hantge Funeral Chapel
899 Highway 15 South
Hutchinson, MN 55350
Phone:(320) 587-2128
Obituary
Dale Steven Thomas was born on March 10, 1951, at Rice Memorial Hospital in Willmar, Minnesota. He was the son of Bert and Ruth (Lietzau) Thomas. Dale was baptized as an infant on June 3, 1951, at Svea Lutheran Church by Rev. Roger W. Anderson. He was later confirmed in his Christian faith on May 2, 1965, at Cosmos Peace Lutheran Church by Rev. Thomas C. Smrcka.
Dale grew up on a farm in the Lake Lillian Township area and attended Minnesota Elementary School Distract No.344 and graduated from Cosmos High School in 1969.
Dale entered active military service in the United States Army on January 27, 1971. He completed his basic training at Fort Stewart, Georgia and then transferred to Fort Campbell Kentucky working as a Truckmaster and Chauffeur, earning decoration in Expert Rifle M-16.
During his time in the service Dale was united in marriage to LeeAnn Erickson. From this marriage a son, Gabriel Steven, was born on September 13, 1971, in Savannah, Georgia. Dale was released from active duty, due to hardship, and received an honorable discharge on February 8, 1972, achieving the rank of E-3 PFC.
Upon his return to Minnesota and after his Father's recovery, Dale began employment with Krasen Plumbing and Heating in Hutchinson as a Journeymen Plumber.
On June 30, 1984, Dale was united in marriage to Valerie J. Hoff at Peace Lutheran Church in Cosmos, Minnesota. This marriage was blessed with a son, Joshua Dale, on December 14, 1986.
In 1987, Dale was hired by the City of Cosmos as their Maintenance Supervisor, taking on a wide variety of job responsibilities. Dale was actively involved during the construction of the new water treatment plant facility, earning a Class C license for water and a Class D license for wastewater to operate and maintain the new facility. Dale worked for the City of Cosmos for 27 years until his retirement in April 2014. In addition to his job with the City, Dale was also employed by Peterson Bus Services for 25 years as a bus driver for the Atwater-Cosmos-Grove City school district.
Dale was an avid hunter and especially loved hunting pheasants during that "magical hour" after his bus route, as the sun was setting in the West. Dale shared his love of hunting with his dad, brothers, and sons and had many successful hunts. But Dales biggest love was his Harley Davidson. Dale was one of the first people to purchase a new Harley from Joe Apol, who owned and operated Apols Harley Davidson in Raymond, Minnesota. That love affair lasted 50 years and included multiple trips West to Sturgis, Wyoming, and Colorado with friends and family. More great memories were made on fishing trips taken up North with his brother Dave and wife, Punky. We'll never forget the Beaver! During the Winter months, Dale enjoyed riding snowmobile and took many trips up North with his family.
Dale and Valerie shared a love for gardening and maintained one together every Summer for 35 years. Dale loved his grandchildren and enjoyed spending time with them and shared many special times with his granddaughter, Abby. Dale and Valerie shared 37 years of marriage in Cosmos together on Milkyway Ave.
Dale passed away on January 9, 2022, at Hutchinson Hospital, at the age of 70 surrounded by his family. May he rest in peace.
Dale is survived by his
Wife Valerie J. Thomas;
Children, Gabriel (Dennise) Thomas,
Josh (Kathy Holland) Thomas;
Grandchildren, Abbigale Thomas, Kyler Thomas and Tristan Thomas;
Siblings, David Thomas and his wife,
Carol, Brad Thomas and his wife, Valerie,
Becky Macik and her husband, Myron;
Sisters and Brothers-in-law; Carol (Lyle) Bahr,
Sherry (Larry) Fisher;
10 nieces and nephews.
Dale was preceded in death by his Parents, Bert & Ruth Thomas; Father and Mother-in-law, Victor & Colleen Hoff; Brother-in-law, Gary V. Hoff; Sisters-in-law; Julie Hoff and Diane Hoff in infancy; and Niece, Jessica Thomas.