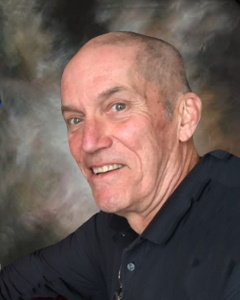 Service Information
Dana S. Baum, age 71, of Hutchinson, Minnesota, passed away on Wednesday, September 28, 2022 at Woodstone Senior Living Memory Care in Hutchinson.
More details will be provided about a memorial service in 2023 on Cape Cod. In lieu of flowers please make donations to the Family Pantry of Cape Cod (thefamilypantry.com) or Alzheimer's Family Support Center of Cape Cod (alzfamilysupport.org).
Funeral Chapel
Dobratz-Hantge Funeral Chapel
899 Highway 15 South
Hutchinson, MN 55350
Phone:(320) 587-2128
Obituary
Dana Stevens Baum was born August 18, 1951, in Natick, Massachusetts to Beverly (Heald) and Charles Edward Baum. He spent his formative years there with his three sisters (Lauren, Kyle, and Stacey). Dana graduated from Natick High School in 1969.
In 1974, he was married to Barbara Brittain at Martha Mary Chapel in Sudbury. Together they welcomed three children (Rebecca, Ian, and Noel). They lived in Newton, Massachusetts, where Dana worked at Video/Visuals from 1980 until 1986 when they moved to Yarmouth to be closer to family.
In 1988, Dana and Barbara founded Coastal Audio/Visuals, a full service audiovisual equipment rental and show staging servicing Cape Cod and the Islands premier resorts and conference centers. For twenty-five years, Dana was behind the scenes making sure everything went smoothly at countless Cape Cod conferences, concerts, weddings, and conventions. In 2013, Coastal joined forces with GreenShow Media and Events to create Cape Cod's largest full service AV rental and staging company. Dana worked with GreenShow until 2016, when he retired to spend more time with family across the country.
In 1998, Barbara and Dana moved to Chatham, where they enjoyed walking to Forest Beach every day. Dana loved golf, as a teenager he would caddy to get access to tee times. He would be seen regularly at Chatham Seaside Links well into the offseason. Dana was the President of the Dennis Yarmouth Rowing Club while his son Ian was on the team.
Dana was very passionate about sports, especially the Boston Red Sox, Patriots, and Celtics. He always knew the score and standing even when there was not a TV or radio in sight. Dana was also a lifelong athlete playing for many years in the Cape Cod Senior Softball League and loved playing "hoops" at the Harwich Community Center.
While sports held a special place in his life, Dana loved spending time with his family. Over the last decade, "Gramps" had been passing on his love of sports, card games, seafood, and music to the next generations.
In 2020, Dana and Barbara relocated to Hutchinson, Minnesota to be closer to family.
Dana is survived by wife, Barbara; children Rebecca Sylvester and husband Charles of San Francisco, CA, Ian Baum and his wife Morgan of Hutchinson, MN, Noel Baum of Seattle, WA; grandchildren Lucy Sylvester, Alex Sylvester, Elliott Baum; sister Kyle Murphy and husband John of Bellingham, MA; and his nieces and nephews Marliese Rangel, Jenna and Ryan Montgomery, Kristen and Tyler Murphy. Dana is preceded in death by his parents Beverly and Charles Baum; sisters Lauren Reyes, and Stacey Holland.