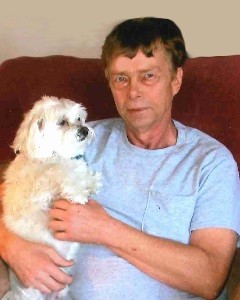 Service Information
Daniel LeRoy Nussbaum, age 62, of Hutchinson, Minnesota, passed away on Friday, August 12, 2016, at his home in Hutchinson, Minnesota.
Gathering of Family and Friends will be held Friday, September 2, 2016, from 1:00 – 5:00 P.M., at Northwood's Park in Hutchinson.
Military Honors by the Hutchinson Memorial Rifle Squad at 3:00 P.M.
Arrangements are with the Dobratz-Hantge Funeral Chapel in Hutchinson.
Funeral Chapel
Dobratz-Hantge Funeral Chapel
899 Highway 15 South
Hutchinson, MN 55350
Phone:(320) 587-2128
Obituary
Daniel LeRoy Nussbaum was born on January 16, 1954, in Litchfield, Minnesota.  He was the son of Wayne and Ruby (Driver) Nussbaum. Daniel was baptized on September 7, 1958, in Lake Lillian, Minnesota, and was later confirmed in his faith as a youth on May 24, 1970, at Faith Lutheran Church in Hutchinson, Minnesota.  He attended school in Hutchinson and was a graduate of the Hutchinson High School Class of 1972.  
Dan entered active military service in the United States Marines on August 13, 1976, in Minneapolis, Minnesota, and served his country during peace time. He received an Honorable Discharge on March 15, 1978, and achieved the rank              of E-5.  
On June 2, 2002, Dan was united in marriage to Karen Stickney at their home in Hutchinson. They shared many wonderful years of marriage. At that time, Dan took on the responsibility of Karen's son Aaron as his own. 
Dan was a loving husband, father and friend. Daniel was a hard worker and was currently employed as a truck driver for Bartels Trucking in Winthrop, Minnesota.  He also worked for Littfin Trusses in Winsted, and helped family and friends do small jobs, when he was available.  Dan was a member of the Hutchinson American Legion Post # 96.  
Dan enjoyed his morning coffee and often met friends and family for coffee to start off his day. He also was a very talented woodworker and enjoyed using his craftsmanship to build and restore many things.  In his younger years, he enjoyed racing in Arlington and Shakopee, Minnesota.  Dan loved being outdoors with nature and his dog Max; he and Max loved to play ball, go for car rides to visit friends from the bank, to the power company. Everyone knew him and his buddy Max. Dan especially enjoyed the time he spent with his wife, son, relatives and friends. If he wasn't having coffee, he was hunting or tinkering with just about anything he could find.  
Daniel passed away on Friday, August 12, 2016, at his home in Hutchinson, at the age of 62 years.  
He will be dearly missed by everyone.  
Daniel is survived bv his:
Previous Spouse, Karen Stickney Nussbaum of Hutchinson, MN;
Son, Aaron Staples and his girlfriend, Mckynzie Sullivan of Winthrop, MN;
Siblings, Donald Nussbaum of Sanborn, IA,
                 Janet Hopp and her husband, Russ of New Mexico,
                Dorian Nussbaum and his wife, Eloise of Brownton, MN,
               Arlys Stern and her husband, Dave of Cosmos, MN; 
Nieces and Nephews from Minnesota and New Mexico; 
Many other relatives and friends.  
Daniel is preceded in death by his Parents, Wayne and Ruby Nussbaum; Nephew, Glen "Tuffy" Nussbaum; Great Nephew, Timothy Nussbaum; Many Aunts and Uncles.