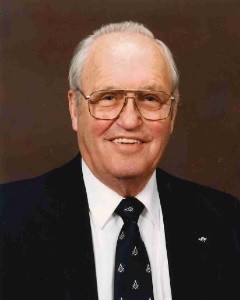 Service Information
Datlaf Weseloh, age 96, of Hutchinson, Minnesota, passed away Thursday, October 5, 2017, at Harmony River Living Center in Hutchinson.
A Celebration of  Life will be Saturday, October 21, 2017, 4:00 P.M. at New Journey United Church of Christ in Hutchinson.
Gathering of Family and Friends will follow the service at the reception which will be held at the McLeod County Historical Society and Museum.
Military Honors by the Hutchinson Memorial Rifle Squad.
Memorials are preferred to the McLeod County Historical Society and Museum.
Service
New Journey United Church of Christ
31 4th Street SW
Hutchinson, MN
Funeral Chapel
Dobratz-Hantge Funeral Chapel
899 Highway 15 South
Hutchinson, MN 55350
Phone:(320) 587-2128
Cemetery
Oakland Cemetery
805 Hwy 15 South
Hutchinson, MN
Obituary
Datlaf Albert Weseloh was born on November 23, 1920, in Hutchinson. He was the son of Martin and Albertina (Schramm) Weseloh. Datlaf was baptized as an infant and was later confirmed in his faith as a youth.  He received his education in Hutchinson and was a graduate of the Hutchinson High School Class of 1940.
Datlaf entered active military service in the United States Navy Air Corp on September 8, 1942, at Wahpeton, North Dakota. From then until 1944, he undertook basic flight training in a Steerman biplane and concluded his training with carrier-based take-offs and landings in a Grumman TBM Avenger on the west coast. He departed for Hawaii and Japan onboard the aircraft carrier USS Hoggatt Bay (CVE 75) as a member of squadron VC99. He saw combat action in the Battle of Okinawa. Immediately after Japan surrendered, their ship was active in rescuing U.S. prisoners of war from northern Japan. From 1945-1947, he was a Navy flight instructor  at Corpus Christi, Texas, where he later received his Honorable Discharge from active duty. Datlaf was a U.S. Navy Reservist in Minneapolis from 1947-1968, where he concluded his flying experience in Grumman F9F Panther jets; he retired from the Navy as a Lieutenant Commander.
On June 10, 1944, Datlaf was united in marriage to Phyllis Zierke at Cokato Evangelical Church in Cokato, Minnesota, while on his leave from the U.S. Navy.  This marriage was blessed with three children he adored, D. Vaughn "Chip", Reed, and Kimberly. Datlaf and Phyllis resided happily in Hutchinson and shared 72 years of marriage until Phyllis passed away on November 12th, 2015.
After the war, Datlaf worked at the Hutchinson Light Plant for 12 years, but he eventually transferred to 3M where he worked in various positions for 23 years. He retired in 1982.
Datlaf was a member of the Hutchinson American Legion Post #96 and the Masonic Temple Lodge, where he served as Secretary for 40 years. He also enjoyed volunteering for Meals on Wheels and at the McLeod County Historical Society and Museum, where he served a term as president. He was a member of New Journey United Church of Christ.  
Datlaf, Datty or Wes was a joyful man. Happiest at his home on the Crow River where he lived with his wife for 58 years, he loved niggling around the house and yard. With his optimistic "can-do" attitude, he was never bored and could always find projects to complete or things to fix. He loved woodworking and general organizing, finding a place for all the interesting items he and his wife collected during their travels. He enjoyed long drives in the country, and he loved boat rides down the river. Once he retired, he spent lots of time planting trees and taking in the view of the river from Wes Point, his lot. For years he had coffee everyday with the guys and breakfast on Saturdays with friends. In his younger years, he enjoyed hunting, fishing, square dancing, and traveling. He instilled a great appreciation for wildlife conservation in his children through the many week-end and after school excursions to Boon Lake, Cedar Lake, Lake Hook and the many other lakes and sloughs around Hutchinson. All his life, Datty especially enjoyed meeting new people and visiting with friends and family.  He would greet everyone with a smile and loved learning new things and sharing old stories.
Datlaf passed away peacefully with family by his side on Thursday, October 5, 2017, at Harmony River Living Center in Hutchinson. He was 96 years "young."  Blessed be his memory.
Datlaf is survived by his:
Children,  D. Vaughn "Chip" Weseloh (Linda) of Toronto, Ontario Canada,
                 Reed Thomas Weseloh (Lois) of Hutchinson, MN,
                 Kimberly Phyllis Weseloh(Wayne Meisel) of Princeton, NJ;
11 Grandsons,    Sean Weseloh McKeanne (Jennifer) of Halifax, Nova Scotia, Canada,
                       Derek Tatyrek of West Linn, OR,
                       Liam Weseloh (Erin) of Sicklerville, NJ,
                       Keir Weseloh (Kristen) of Toronto, Ontario Canada,
                        Michael Weseloh (Rachelle Morrison) of Big Lake, MN,
                        Timothy Weseloh (Lisa) of Hutchinson, MN,
                        Jonathan Weseloh of Hutchinson, MN,
                        Abraham Meisel, Will Meisel, Zechariah Meisel, and Elijah Meisel of Princeton, NJ,
11 Great Grandchildren, Gavin Weseloh, Audrey Weseloh, Laynee Weseloh, Madilyn Tatyrek, Megan Tatyrek, Hannah Weseloh, Brenden Weseloh, Logan Weseloh, MacKenzie Weseloh, Ave-Kia McKeanne and Lucia Skye McKeanne;                  Many other relatives and friends.
Datlaf is preceded in death by his parents, Martin and Albertina Weseloh; spouse, Phyllis Weseloh; brother, Alfred (Edna) Weseloh.