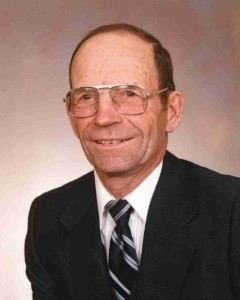 Service Information
Delmer R. Sturges, age 100, of Hutchinson, passed away on Friday, July 28, 2017, at Harmony River Living Center in Hutchinson.
Funeral Services will be held at Friday, August 4, 2017, 11:00 A.M., at Peace Lutheran Church in Hutchinson. Interment will be in the Peace Lutheran Church Cemetery.
A Visitation will be held Thursday, August 3, 2017, from 5:00 to 8:00 P.M. and Friday, from 8:00 to 9:00 A.M. at the Dobratz-Hantge Funeral Chapel and will continue one hour prior to the service at the church.
Visitation/Gathering
Dobratz-Hantge Chapel
899 Highway 15 South
Hutchinson, MN
Website:hantge.com
Service
Peace Lutheran Church
400 Franklin Street SW
Hutchinson, MN
Funeral Chapel
Dobratz-Hantge Funeral Chapel
899 Highway 15 South
Hutchinson, MN 55350
Phone:(320) 587-2128
Cemetery
Peace Lutheran Cemetery (Hutchinson)
205th Drive
Hutchinson, MN
Obituary
Delmer Robert Sturges was born on July 22, 1917, in Slayton, Minnesota. He was the son of Robert and Christine (Karl) Sturges. Delmer was baptized as an infant at Presbyterian Church in Slayton.  He received his education through grade 8 at Murray Country School.  
Delmer was blessed with three children, Marea, Dwayne, and Darrell.
On March 23, 1973, Delmer was united in marriage to Doris Boller Bishman at Our Savior's Lutheran Church in Brooking, South Dakota by Reverend Roger Fisher. Delmer and Doris resided in Hutchinson. They shared 44 years of marriage together.
Delmer was a farmer and retired in 1981. He was in a trucking business, selling over 300 trucks until 2015.
Delmer was a member of Peace Lutheran Church in Hutchinson. He was also a member of Farm Bureau.  
Delmer enjoyed dancing and playing card games. He also had a deep interest in trucks which eventually turned into his business. He especially enjoyed spending time with his family, grandchildren, and friends.
When Delmer needed assistance with his daily cares, he became a resident of Harmony River Living Center on Sunday, July 23, 2017. He passed away there on Friday, July 28, 2017, at the age of 100 years.
Blessed be his memory.
Delmer is survived by his:
Wife, Doris Sturges of Hutchinson, MN;
Children, Marea Davis and her husband, Bob, of Eden Prairie, MN,
                Dwayne Sturges and his special friend, Cindy Green, of Eagle Bend, MN;
Sister, Alice Bandemer of Glencoe, MN;
8 Grandchildren;
20 Great-Grandchildren;
5 Great Great-Grandchildren;
Step-Children, MaryAnn Bishman, Gary Bishman and his wife, Jenny, Lee Bishman, Lisa Wichterman and her husband, Greg;
Many other relatives and friends.
Delmer is preceded in death by his Parents, Robert and Christine Sturges; Son, Darrell Sturges; Brothers, Lester Sturges, Kenneth Sturges, and Donald Sturges; Sisters, Norma Veenhuis, Edith Deal, Helen Retzlaff, and Doris Havemeier; Brother-In-Laws, John Havemeier, Marvin Bandemer, Arthur Retzlaff, Herman Veenhuis, and "Jigs" Carlton Deal; and Sister-In-Laws, Ruth Sturges and Margaret Sturges.