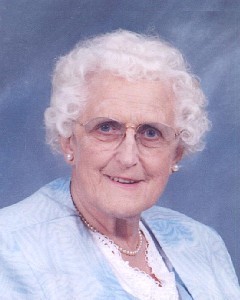 Service Information
Delores Boese, age 91, of Gaylord passed away Wednesday, June 24, 2015, at Glencoe Regional Health Services-Long Term Care.
Funeral Services will be Saturday, June 27th, 10:00 A.M. at St. Paul's Lutheran Church in Gaylord with interment in the church cemetery.
Visitation will be Friday, June 26th, 4:00 P.M.-7:00 P.M. at the Egesdal Funeral Home in Gaylord. Visitation will continue one hour prior to the service at the church on Saturday.
Visitation/Gathering
Egesdal Funeral Home
74 Main Avenue
Gaylord, MN
Website:hantge.com
Service
St. Paul's Lutheran Church
513 Main Avenue
Gaylord, MN
Funeral Chapel
Egesdal Funeral Home
74 Main Avenue
Gaylord, MN 55334
Phone:(507) 237-2388
Cemetery
St. Paul's Lutheran Cemetery (Gaylord)
Gaylord, MN
Obituary
Delores Ethel (Gall) Boese was born on November 25, 1923, in Penn Township, McLeod County, Minnesota. She was the daughter of William and Martha (Ewert) Gall. Delores was baptized as an infant on December 30, 1923, at Immanuel Lutheran Church in New Auburn by Reverend H. Diemer, and was later confirmed in her faith on April 10, 1938, at St. Paul's Lutheran Church by Reverend W. Ulrich. She received her education at country schools.
On March 18, 1945, Delores was united in marriage to George Boese at St. Paul's Lutheran Church in Gaylord. After their marriage, the couple farmed in Sibley Township, Sibley County until 1978. They moved into Gaylord in 1982. She was employed by Myrtle Klucking Catering for many years and later as a nursing assistant at Lakeview Home. They were blessed with five children. Delores and George shared 48 years of marriage before George passed away on May 31, 1993.
Delores was a member of St. Paul's Lutheran Church in Gaylord and served as a Sunday School Teacher retiring after 25 years. She also served as Coffee Hour Treasurer and Sunday School Treasurer. She was also a 4-H Leader and a member of Home Extension.
Delores enjoyed crocheting, quilting and flower gardening. She especially loved spending time with her family especially her grandchildren and great-grandchildren.
Blessed be her memory.
Delores is survived by her:
Children,           William Boese of Forest Lake, MN,
                        Beverly Stone and her husband, David of Chippewa Falls, WI,
                        Bonnie Meyer and her husband, Rueben of Gaylord, MN,
                        Barbara Haefs and her husband, Rodney of Henderson, MN, and
                        Kevin Boese and his wife, Vicki of Brownton, MN;
Grandchildren, Tara (Brett) Boese-Lange, William (Janet) Boese Jr., Stephanie Boese, Jerrod (Rebecca) Stone, Jessica (Dustin) Ridings, Donovan (Nissa Friese) Frauendienst Jr, Laura (Darren) Reid, Meredith Frauendienst, Heidi Haefs, Jesse (Melany) Haefs, Melody Haefs, Luke Haefs, Daniel Haefs, Cody Haefs, and Scooter Boese;
Step-Grandchildren, Les Meyer, Ruby (Jeff) Goldberg, Stephine (Darin) Baumgarten, Jamie Schiller;
Great-Grandchildren, Dakota Boese, Mitchell Boese, Lawton Stone, Emily Stone, Sarah Ridings, Dana Ridings, Owen Reid, Liza Reid, Nathaniel Frauendienst and Beauen Harbarth;
Step-Great-Grandchildren, Matt Friese, Molly Friese, Julie (Andy) LaMere, Brandon Meyer, Brock Meyer, Brady Meyer, Sara Goldberg, Dan Goldberg, Arianna Baumgarten, Tristin Baumgarten and Evan Baumgarten;
Step-Great-Great-Grandchild, Thomas LaMere:
Other relatives and friends.
Delores was preceded in death by her Parents, William and Martha Gall; Husband, George Boese; Daughter-in-Law, Barbara Boese; Son-In-Law, Donovan Frauendienst and Grandchild, Baby Boese.