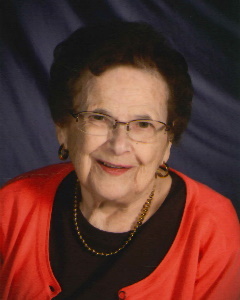 Service Information
Delores D. Goebel , age 94, of Hutchinson, Minnesota, passed away on Saturday, June 25, 2022, at her granddaughter's home in Hutchinson, where she was being cared for.
Funeral Service will be held on Thursday, June 30, 2022, at 11:00 A.M. at Our Savior's Lutheran Church in Hutchinson, Minnesota, with interment in Oakland Cemetery in Hutchinson.
Visitation will be held Wednesday, June 29, 2022, from 4:00 to 7:00 P.M. and again one hour prior to the service ALL at the church.
Visitation/Gathering
Our Savior's Lutheran Church
800 Bluff Street NE
Hutchinson, MN
Service
Our Savior's Lutheran Church
800 Bluff Street NE
Hutchinson, MN
Funeral Chapel
Dobratz-Hantge Funeral Chapel
899 Highway 15 South
Hutchinson, MN 55350
Phone:(320) 587-2128
Cemetery
Oakland Cemetery
805 Hwy 15 South
Hutchinson, MN
Obituary
Delores Dorothy (Kuester) Goebel was born on August 29, 1927, in Hutchinson, Minnesota. She was the beloved only child of Otto and Emma (Schmidt) Kuester. Delores was baptized at her home October 2, 1927 and confirmed in her faith on March 17, 1940. She was a graduate of the Hutchinson High School class of 1945. After graduation, Delores worked at Chous' ladies clothing store.
On July 4, 1948, Delores was joined in marriage to Virgil Goebel at Peace Lutheran Church. She met Virgil at a church choir function when she was a teenager. Their courtship remained strong throughout Virgil's three-year Army deployment, during which they exchanged frequent love letters. After the wedding, Virgil and Delores built their home on Dale Street where they lived happily together and raised two children, Barbara and Richard. They shared 73 years of marriage.
Delores was a devoted homemaker and volunteer in her community. She loved music, could play both the piano and organ, and participated in church choir for over 70 years of her life. Delores was active in her faith and lived that out through several volunteer positions at church including Women's Guild, Sunday School Teacher, Flower Committee, and many others.
Having grown up during the Depression and World War II, Delores had very little, but always did her best to help others. When Peace Lutheran was collecting clothing for the survivors of the war, Delores gathered what she could contribute and put her name and address in the pockets hoping for a reply. She wound up with many European pen pals as a result. One pen pal in Germany became a close family friend, and the relationship flourished over decades, with both families still in touch and exchanging Christmas care packages to this day.
Delores loved gardening and creating floral arrangements for the County Fair and local Garden Club. She also enjoyed ceramics, sewing, and shopping which blossomed into her role as part owner of Jandy's, a children's clothing store in Hutchinson which she ran with Jan Kreitlow for 22 years. She enjoyed many family trips in the U.S. and Europe, but she was always happiest to be "home sweet home."
If Virgil was the strength and "wood" of their family, you might say Delores was the glue. She was endlessly present, loving, and supportive. She will be fondly remembered for her sense of humor and quick wit, and how she could bring laughter to any situation. You always knew where you stood with Delores; she rarely held back a sentiment or opinion, which her family found incredibly endearing. Most importantly, she had a way of saying "I love you" in such a sincere way that it went straight to your heart. Delores leaves a legacy of kindness, honesty, generosity, and family values that we will treasure always. May her memory bless all who knew her.
Delores is survived by her:
Children, Barbara Field of Hutchinson, MN,
Richard Goebel and his wife Paula, of Darwin, MN;
Grandchildren, Matthew Field and his wife, Amy, of Buffalo, MN,
Amy Paulson and her husband, Rory Jr., of Hutchinson, MN,
Wade Christenson of Litchfield, MN;
Great-Grandchildren, Ariana Field and Wesley Paulson;
Many other relatives and countless friends.
Delores is preceded in death by her parents, Otto and Emma; husband Virgil; son-in-law Glenn Field.