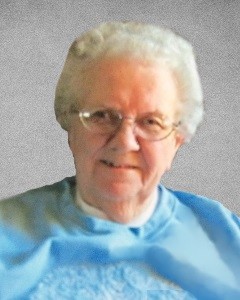 Service Information
Dolores J. Uthof, age 87, of Hutchinson, passed away Thursday, August 10, 2017, at Harmony River Living Center in Hutchinson.  
Funeral Services will be Tuesday, August 15, 2017, 2:00 P.M. at Oakcrest Funeral Services in Algona, Iowa. Interment will be in the East Lawn Cemetery in Algona, Iowa.
A visitation will be Tuesday at 1:00 P.M., one hour prior to the service at Oak Crest Funeral Home.
Visitation/Gathering
Oakcrest Funeral Services
218 S Moore St.
Algona, Iowa
Kossuth
Service
Oakcrest Funeral Services
218 S Moore St.
Algona, Iowa
Kossuth
Funeral Chapel
Dobratz-Hantge Funeral Chapel
899 Highway 15 South
Hutchinson, MN 55350
Phone:(320) 587-2128
Cemetery
East Lawn Cemetery
917 Irvington Rd
Algona, Iowa
Kossuth
Obituary
Dolores Jean Uthof was born on March 21, 1930, in Algona, Iowa. She was a twin daughter of Alton Lee and Rose Ruth (Harmon) Rochleau. Dolores was baptized as an infant and was later confirmed in her faith as a youth both at the Methodist church in Whittemore, Iowa.  She received her education in Whittemore, and was a graduate of the Whittemore High School Class of 1948. Dolores then took college courses and received her Certified Nursing Assistant degree in 1994 in North Carolina.
On February 4, 1951, Dolores was united in marriage to Donald Ernest Otto Uthof at St. John's Lutheran Church in Fenton, Iowa. This marriage was blessed with three children, Colleen, Daniel, and Ruth. Dolores and Donald resided in Dodge Center, Minnesota. 
Dolores worked as an office worker at Agricultural Stabilization Conservation Society for 25 plus years and as a CNA in North Carolina for 10 years. She retired in 2010. Dolores enjoyed 22 years living in North Carolina by her son, Dan, and moved back to Hutchinson in 2014.
Dolores enjoyed bowling, golfing, and flower gardening. She loved her pet dogs, Cuddles, Ruffles, and Rascal. She especially enjoyed spending time with her family, grandchildren, and friends.
When Dolores needed assistance with her daily cares, she became a resident of Harmony River Living Center on December 10, 2014. She passed away there on Thursday, August 10, 2017, at the age of 87 years.
Blessed be her memory.
Dolores is survived by her:
Children, Colleen Rae "Connie" Schmoll and her husband, Jerry Elliott, of Hutchinson, MN,
                Daniel Lee Uthof and his wife, Nancy, of Sanford, NC,
                Ruth JoAnn Johnson and her husband, Craig, of Lincoln, NE;
Grandchildren, Alan Schmoll, Steven (Katie) Schmoll, Seth (Sonya) Miller, Jared (Katie) Miller, John (Christin) Miller II, and Ashley Miller;
Great Grandchildren, Egan Schmoll, Luke Miller, Lily Miller, Angela Miller, Andrea Miller, and Eva Miller;
Step-Grandchildren, "Hudie" Hubert Moser, Nannette Godfrey, and Nathan (Wanda) Johnson;
Step- Great Grandchildren, Bridget Moser, Tiffany Godfrey, and Daniel Moser;
Step- Great Great Grandchild, Erik Johnson;
Brothers, Marvin Rochleau and his wife, Doris, of St. Louis, MO,
                Alton "Sonny" Rochleau Jr. of Des Moines, IA;
Twin Sister, Doris Mueller of Algona, IA;
Sister-In-Law, Betty Rochleau of Algona, IA;
Nieces, Nephews, and many other relatives and friends.
Dolores is preceded in death by her Parents, Alton and Rose Rochleau; former Husband, Donald Uthof; Brother, Gerald Rochleau; Sister, Eileen Gronwall and her husband, Bob; Sister-In-Law, Sharon Rochleau; Brother-In-Law, Merrill Mueller; and Step- Great Grandchild Wesley Moser.