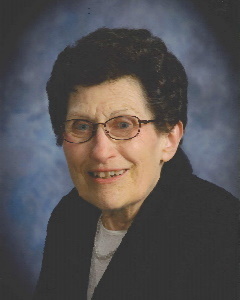 Service Information
Deloris A. Tuchtenhagen, age 94, of Fairfax, Minnesota, passed away October 10, 2021, at the New Ulm Medical Center in New Ulm, Minnesota.
Funeral Service will be held Saturday, October 16, 2021, at 11:00 A.M. at St. John Lutheran Church in Fairfax, with interment at a later date in Fort Snelling National Cemetery in Minneapolis, Minnesota.
Visitation will be held Friday, October 15, 2021, from 4:00 – 7:00 P.M. at Hauser-Hantge Funeral Chapel in Fairfax and will continue on Saturday one hour prior to the service at the church.
Visitation/Gathering
Hauser-Hantge Chapel
601 South Park Street
Fairfax, MN
Website:hantge.com
Service
St. John Evangelical Lutheran Church
107 Lincoln Avenue
Fairfax, MN
Funeral Chapel
Hauser-Hantge Funeral Chapel
601 South Park Street
Fairfax, MN 55332
Phone:(507) 426-7274
Cemetery
Fort Snelling National Cemetery
7601 34th Avenue S
Minneapolis, MN
Obituary
Deloris Anna Tuchtenhagen was born on March 21, 1927, in Kelso Township, Sibley County, near Arlington, Minnesota. She was the daughter of Alvin and Enjala (Fritsch) Reddemann. Deloris was baptized as an infant and later confirmed in her faith as a youth at St. John's Lutheran Church in New Rome, Minnesota. She received her education in Arlington, Minnesota, and was a graduate with the Arlington High School class of 1946. Deloris furthered her education studying accounting at the Minnesota School of Business in Minneapolis, Minnesota.
On October 14, 1948, Deloris was united in marriage to Vern Tuchtenhagen at St. John's Lutheran Church in New Rome. This marriage was blessed with four children, Connie, Steven, Ann, and James. Deloris and Vern initially resided in Hutchinson, Minnesota, later moved to Gaylord, Minnesota, and in 1963 they settled in Fairfax, Minnesota, where they owned and operated Vern's Meat Market selling fresh meat, sides, and their secret summer sausage recipe. They shared 19 years of marriage until the passing of Vern on August 19, 1968.
Deloris was employed in the accounting department at Fingerhut in Gaylord and by her husband's side operating Vern's Meat Market in Fairfax. After her husband passed in 1968, she sold the Meat Market and began working in the housekeeping department at the Fairfax Community Home. Deloris retired in 2010. She was a member of St. John's Lutheran Church in Fairfax. Deloris was also a member of the St. John's Ladies Aid, Fairfax C&C, Fairfax Depot Association, Fairfax Civic League, Renville County Museum and Historical Society, Friends of Fort Ridgley, Minnesota River Valley Recreational Trail Association, VFW Auxiliary, and American Legion Auxiliary, holding many board and advisory positions.
Deloris loved dedicating her time to her community through the many organizations she belonged to and the volunteer hours she gave. This was evident when she was honored to be named Grand Marshall of Fairfax's 125th Anniversary Celebration in July, 2007. She enjoyed collecting antiques, thrifting, cookbooks, reading, advocating for the bike trail between the Depot and Fort Ridgley, volunteering at Treasure Haus on Saturdays and Prison Ministries in New Ulm every Monday. She especially enjoyed spending time with her family, grandchildren; and maintained many friendships from high school girlfriends to neighbors and co-workers.
In 2015, Deloris became a resident of Country View Estates in Fairfax. In April, 2021 after the Assisted Living wing of the Fairfax Community Home closed, she became a resident of Golden Hearts in Arlington, returning to her "hometown" once again. She was so happy at Golden Hearts with friends she had known from back in the day and even her neighbor from the farm she grew up on, Glen Schauer, as a fellow resident and dining table mate. Deloris will be missed on Saturday mornings while the group watches Bandwagon.
Deloris passed away on Sunday evening, October 10, 2021, surrounded by her three children, at the New Ulm Medical Center in New Ulm, Minnesota, at the age of 94 years.
Blessed be her memory.
Deloris is survived by her
Children, Connie Mathwig of Belle Plaine, MN,
Ann Breitenfeldt and her husband, Scott, of Plymouth, MN,
James Tuchtenhagen and his wife, Janet, of Plymouth, MN;
Grandchildren, Tamara Mathwig, Charalette Mathwig, Teresa Evenson and her husband, Mike, Brian Mathwig and his wife, Karen, Kimberly Mathwig, Nate Breitenfeldt, Carter Breitenfeldt, Jack Tuchtenhagen, and Jessica Tuchtenhagen;
Great-grandchildren, Jamie Laabs, Clayton Evenson, Heath Cermak, Michael Mathwig, Alexa Mathwig, Evelynn Mathwig, Ivie Mathwig, Samuel Mathwig, Mallory Mathwig, and Shelby Mathwig;
Great-great-granddaughter, Braelynn Bleick;
Many other relatives and friends.
Deloris is preceded in death by her Parents, Alvin and Enjala Reddemann; Husband, Vern Tuchtenhagen; Son, Steven Tuchtenhagen, sisters-in-laws, brothers-in-laws, and cousins.